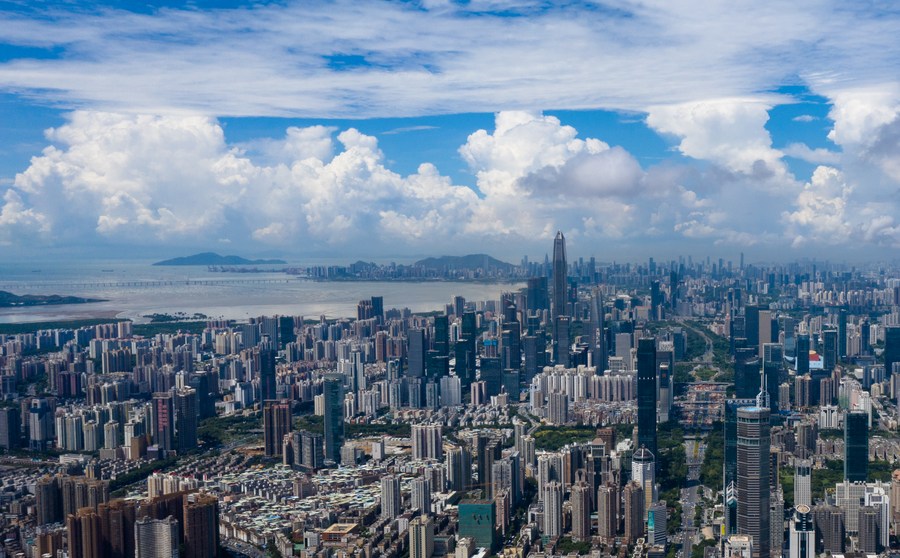 Aerial photo taken on Sept. 11, 2020 shows a view of downtown Shenzhen, south China's Guangdong Province. (Xinhua/Mao Siqian)
BEIJING, Dec. 28 (Xinhua) -- From the year 2020 to end of November this year, the Shenzhen branch of the China Export & Credit Insurance Corporation, also known as SINOSURE, has supported exports worth 18.6 billion U.S. dollars to the Belt and Road (B&R) countries and regions through short-term export credit insurance, reported Shanghai Securities News on Monday.
In the same period, the company has also backed hundreds of telecommunication projects at more than 10 billion U.S. dollars in total, covering over 140 countries including Indonesia, Egypt and Mexico through export credit insurance.
Through overseas investment insurance, the company has supported a number of investment projects worth a total of over 4.7 billion U.S. dollars during the same time period. The projects involve sectors including ports and photovoltaic.
By end of November, SINOSURE's Shenzhen branch has supported local companies' exports and overseas investments worth 446.54 billion U.S. dollars in total and paid over 1.4 billion U.S. dollars for claims, according to the company.
(Edited by Yu Huichen with Xinhua Silk Road, yhc0267@163.com)