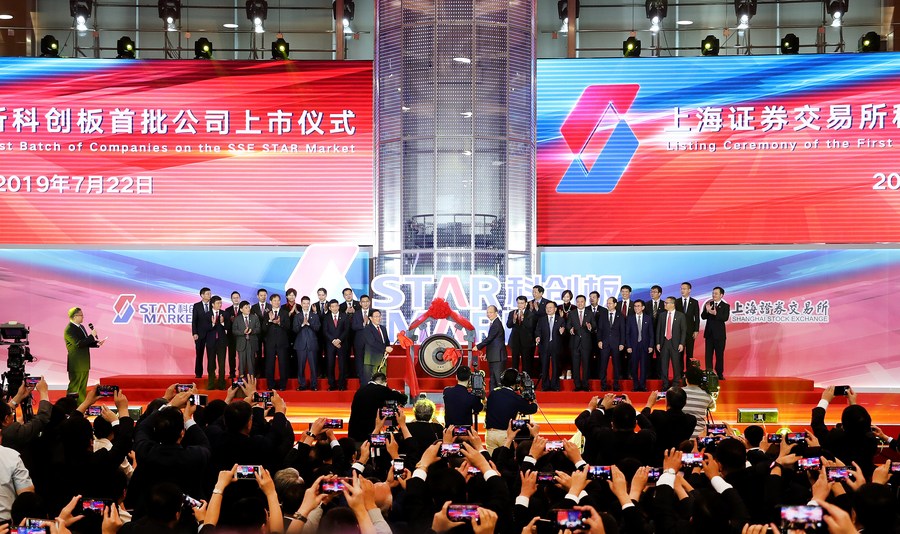 File photo shows the debut ceremony of China's sci-tech innovation board (STAR market) at the Shanghai Stock Exchange in Shanghai, east China. (Xinhua/Fang Zhe)
BEIJING, Dec. 24 (Xinhua) -- China's sci-tech innovation board, better known as the STAR market, saw 157 new firms listed for raising 197 billion yuan from the board by December 24 in 2021, reported Xinhua-run Xinhua Finance Friday.
Among them, companies headquartered in Jiangsu Province, Guangdong Province, Shanghai, Beijing and Zhejiang Province totaled 106 ones, accounting for 68 percent of the comparable data in 2021.
By industries, 34 computer, communications and other electric equipment manufacturing related enterprises, 29 special purpose equipment producers, 20 medicine producers, 16 electrical machinery and equipment manufacturers, 12 software and IT service firms went public on the STAR market in 2021, accounting for 71 percent of the new firms listed on the board in 2021.
By Friday, 53 specialized, characteristic and innovative "little giant" companies got listed on the STAR market in 2021.
Prices of STAR market-listed companies' stocks and their market capitalization vary significantly. About 63 percent or 98 of the listed companies owned less than 10 billion yuan of market cap and 55 listed firms had market cap under 5 billion yuan.
For seven firms, their stock prices fell below their initial public offering (IPO) prices on the first trading days.
Market analysts thought that alongside the deepening of registration-based IPO reform, pricing of IPOs on the STAR market will become more and more rational, which will force institutional investors to optimize their pricing capability. (Edited by Duan Jing with Xinhua Silk Road, duanjing@xinhua.org)