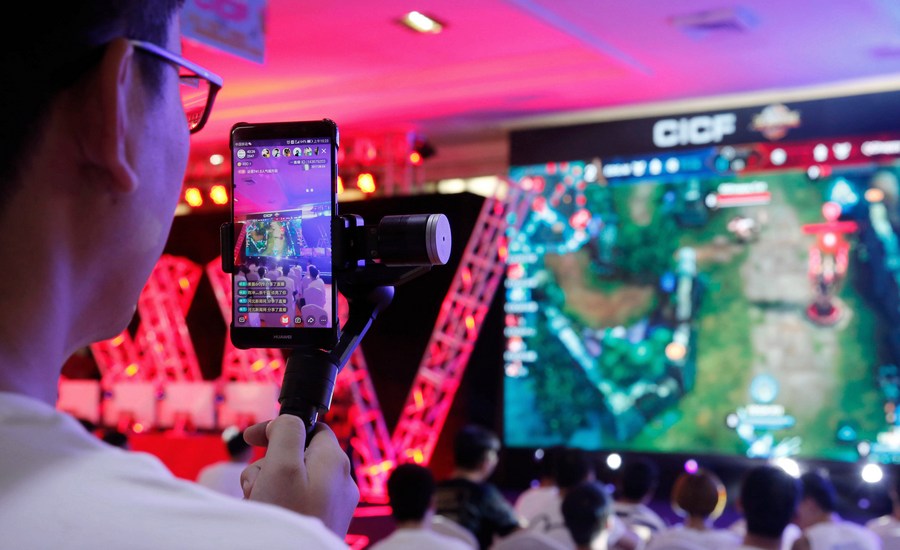 File photo shows a visitor broadcasting a mobile game competition with his mobile phone during an international animation fair in Shijiazhuang City, capital of north China's Hebei Province. (Xinhua/Wang Xiao)
BEIJING, Dec. 23 (Xinhua) -- Perfect World Europe B.V. (PWE B.V.), a wholly-owned subsidiary of Chinese entertainment firm Perfect World Co., Ltd. (002624.SZ), has inked an agreement with Swedish game developer and publisher Embracer Group AB (Embracer) to sell two of its overseas subsidiaries to Embracer, reported Shanghai Securities News Wednesday quoting the company.
According to the agreement, Embracer plans to spend 125 million U.S. dollars to purchase all the stakes of Perfect World North America Corporation (PWNA) and Perfect World Publishing B.V. (PWP B.V.) which are holding by PWE B.V.
The transaction is expected to close in 2022 and generate an investment income of 380 million yuan (pre-tax).
The announcement made by Perfect World Co., Ltd. on Tuesday shows that PWNA mainly engages in the development of PC and console games and the publishing of these games in Europe and America, and PWP B.V. focuses on publishing PC and console games in Europe and America.
The two companies achieved a combined operating revenue of 919 million yuan in 2020 and 522 million yuan from January to September, 2021, and a combined net profit of 72.86 million yuan in 2020 and -108 million yuan from January to September this year.
Embraceris a global games development and publishing group, with products covering terminal, console, and mobile games and many other fields, and it has the independent operation rights of many well-known IP games.
(Edited by Gu Shanshan with Xinhua Silk Road, gushanshan.1987@163.com)