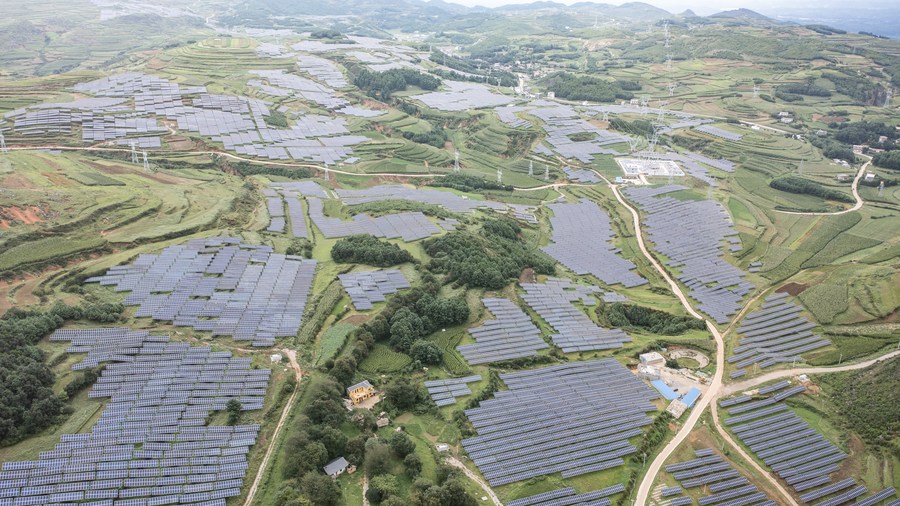 Aerial photo taken on Aug. 24, 2021 shows a photovoltaic power station in Weining Yi, Hui and Miao Autonomous County, Bijie, southwest China's Guizhou Province. (Xinhua/Tao Liang)
BEIJING, Dec. 20 (Xinhua) -- NewLink, a Chinese firm engaging in the Internet of Things (IoT) in the energy sector announced that it secured a new round of strategic funding led by the International Green Fund on December 17, 2021, reported China Securities Journal.
Public information shows that NewLink is one of the world's top 500 new energy companies and a unicorn company, focusing on businesses like Tuanyou, a refueling software focusing on daily special offer, FLEETIN, a third-party charging network, cloud solutions, integrated energy port, etc.
With Shandong Green Development Equity Investment Fund as its main body, the International Green Fund was co-established by CICC Capital and Shandong Development & Investment Holding Group Co., Ltd., with the support by the Asian Development Bank, German state-owned development bank KfW, French Development Agency (AFD), the Green Climate Fund, and Contemporary Amperex Technology Co., Limited (300750.SZ), etc.
NewLink also got funding in this round from Shandong Hi-Speed Capital controlled by Shandong Hi-Speed Group, a state-owned company in infrastructure in east China's Shandong Province.
The shareholders of NewLink also include China Merchants Capital, CICC Capital, China SME Development Fund Co., Ltd., Bain Capital, CMB International Capital Corporation Limited, Joy Capital, Xiaomi Corporation, Oriental Fortune Capital, NIO Capital, Korea Investment Partners China, GSRUnited Capital, and Zero2IPO Asset Management.
It's learned that since the beginning of this year, NewLink has received multiple rounds of financing. In January, it completed 100 million U.S. dollars of strategic financing which was led by CMB International Capital Corporation Limited and followed by subsidiaries of Hongtai Aplus, and involves additional investment from its old shareholders Joy Capital and NIO Capital.
In March, NewLink completed a new round of funding of 200 million U.S. dollars which was led by Bain Capital and followed by Joy Capital.
In August, NewLink finished another round of strategic financing led by China Merchants Capital and followed by old shareholders like CICC Capital.
(Edited by Tong Ting, Gu Shanshan with Xinhua Silk Road, gushanshan.1987@163.com)