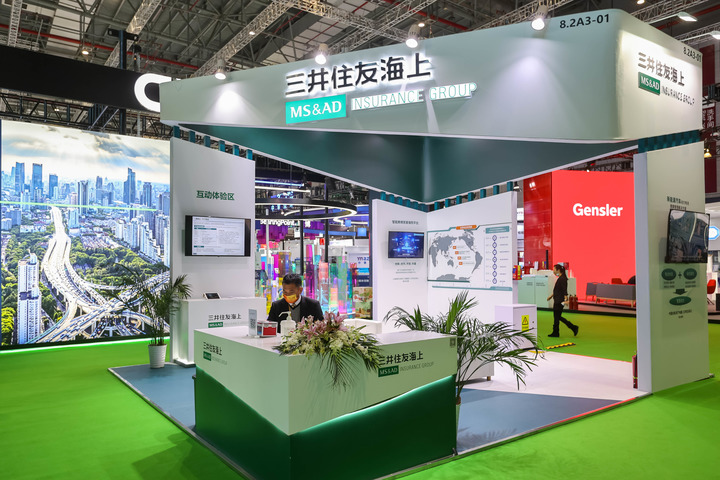 People visit the booth of MS&AD Insurance Group at the Trade in Services Exhibition Area of the 4th China International Import Expo (CIIE) in east China's Shanghai, Nov. 8, 2021. (Xinhua/Wang Xiang)
BEIJING, Dec. 10 (Xinhua) -- China Banking and Insurance Regulatory Commission (CBIRC) invited public opinions from Friday on its amended rules on insurance asset management companies (AMCs), mulling canceling the upper limit on the proportion of equities held by foreign insurers in these companies, reported Xinhua-run Xinhua Finance on Friday.
CBIRC outlined in its Friday-posted announcement major changes on five aspects to the existing rules, saying that by the end of September, 2021, there had been 31 insurance AMCs in operation and they managed in total 18.72 trillion yuan of related assets, becoming important participants of China's financial market.
The amended rules contain seven chapters and 85 articles and the major contents cover a newly added chapter for corporate governance, a chapter on risk management, and contents on optimizing equity structure design, improving operation principles and related requirements, and adding regulatory and supervisory means and constraints over violations.
To broaden opening-up, the rules for public comments set no restriction on the ceiling of the proportion of equities held by foreign insurers in insurance AMCs in China.
The rules made such abolishment mainly to materialize one of the 11 measures previously announced by the office of financial stability and development committee of the State Council, the Chinese cabinet, to expand opening-up.
In July 2019, the office announced to cancel related rules providing that domestic insurers' aggregate equities in insurance AMCs in China shall not be lower than 75 percent and to allow higher than 25 percent proportion of equities in insurance AMCs held by foreign investors.
The rules also set unified qualification requirements applicable to both domestic and foreign shareholders of insurance AMCs to help attract excellent external insurers and AMCs to take part in the development of China's insurance asset management industry.
According to CBIRC, the opinion invitation will end on January 10, 2022 and CBIRC will further revise and perfect the insurance AMCs rules in accordance with future feedbacks and release the amended rules at an appropriate timing. (Edited by Duan Jing with Xinhua Silk Road, duanjing@xinhua.org)