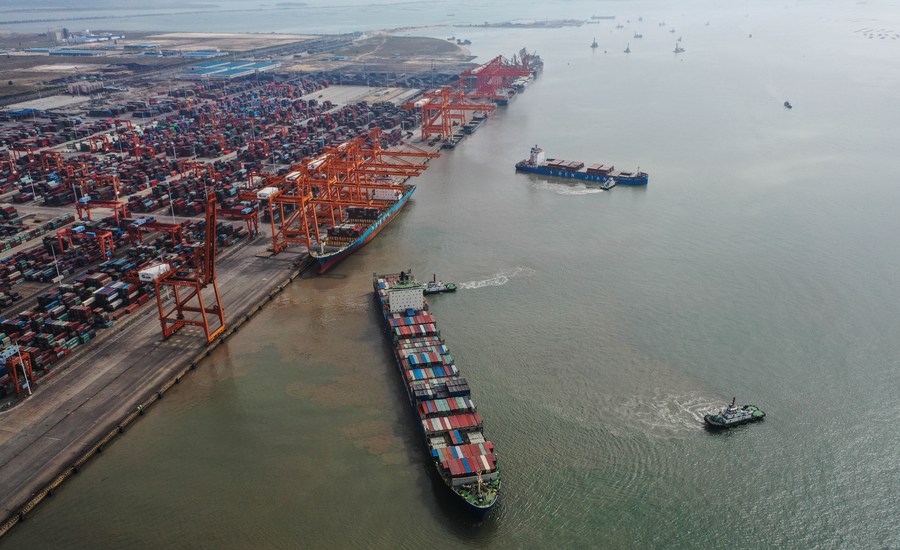 Aerial photo taken on Nov. 19, 2020 shows a cargo ship leaving a berth of the Qinzhou Port in south China's Guangxi Zhuang Autonomous Region. (Xinhua/Zhang Ailin)
BEIJING, Dec. 3 (Xinhua) -- China's crude oil futures have seen steady trading volume with the scale leveling up from January to November of 2021, according to the latest data released by Shanghai International Energy Exchange (INE).
The cumulative volume of crude oil futures transaction in China reached 37.6951 million lots with a turnover of 16.199259 trillion yuan, increasing by 1.85 percent and 53.11 percent year on year respectively.
In addition, crude oil options have been actively traded since its debut on June 21 this year. As of November 30, the cumulative trading volume of crude oil options reached 1.1835 million lots with a daily average open interest of 13,400 lots, the data showed.
As of November 30, a total of 75 overseas futures intermediaries have registered at INE, with overseas clients in more than 20 countries and regions.
(Edited by Tian Shenyoujia with Xinhua Silk Road, tianshenyoga0524@163.com)