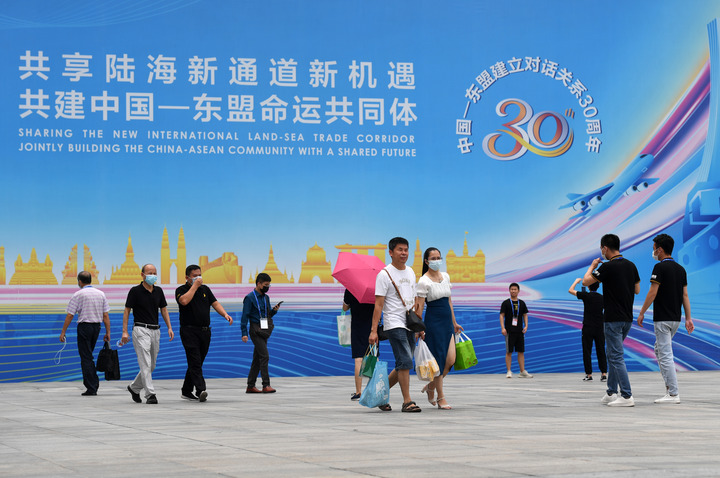 People walk out of the venue of the 18th China-ASEAN Expo in Nanning, capital of south China's GuangxiZhuang Autonomous Region, Sept. 13, 2021. TO GO WITH XINHUA HEADLINES OF NOV. 22, 2021 (Xinhua/Lu Boan)
BEIJING, Dec. 3 (Xinhua) – The China (Guangxi) Pilot Free Trade Zone (FTZ) unveiled 40 new institutional innovations recently, including 19 pilot reforms and 21 best practice cases, reported Guangxi Daily Wednesday.
These 40 institutional innovations will be replicated nationwide, covering the transformation of government functions, investment reform, trade transformation and upgrading, opening up of the financial sector, and innovative development of urban services.
The institutional innovations focus on Guangxi's deepening cooperation with ASEAN countries and strengthening the construction of the New International Land-Sea Trade Corridor, a logistic passage jointly built by Singapore and provincial-level regions of western China.
Meanwhile, the institutional innovations also highlight the industrial development of Guangxi and the participation of market entities in institutional innovation, forming worthy experiences and for all regions across China.
The achievements in implementing pilot reforms since the establishment of the Guangxi FTZ have injected vitality into the region's economic development. Data shows that as of September 30 this year, the enterprises settled in the FTZ surged 11-fold to 40,000 enterprises since its establishment. (Edited by Jiang Feifan with Xinhua Silk Road, 346129473@qq.com)