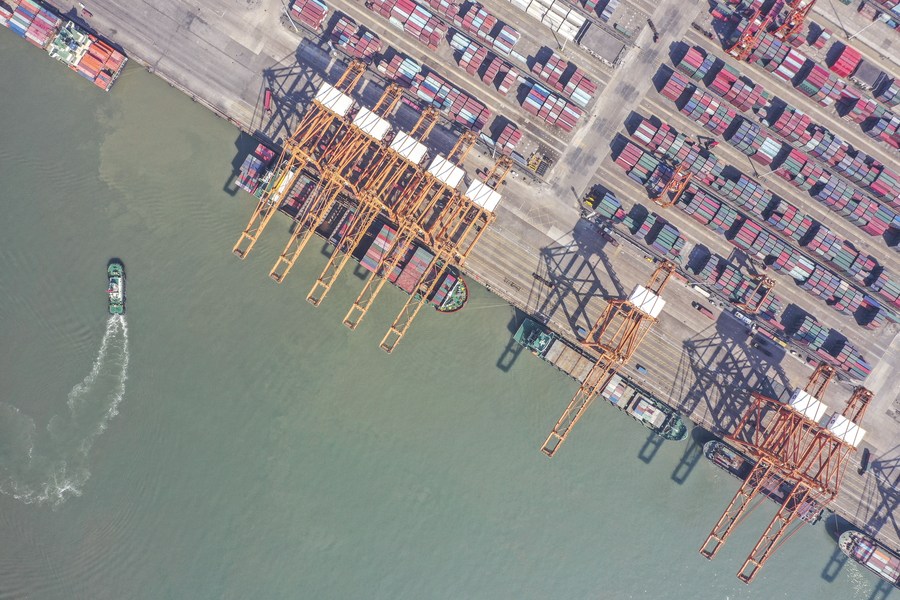 Aerial photo taken on Jan. 14, 2021 shows a view of the container wharf of Qinzhou Port, south China's Guangxi Zhuang Autonomous Region. (Xinhua/Cao Yiming)
BEIJING, Dec. 2 (Xinhua) -- Multiple Chinese provinces have unveiled specific plans to actively and comprehensively respond to the Regional Comprehensive Economic Partnership (RECP), which will take effect in ten countries including six members of the Association of Southeast Asian Nations (ASEAN), China, Japan, New Zealand and Australia on January 1, 2022.
South China's Guangxi Zhuang Autonomous Region has introduced policy measures to accelerate integrating with the RCEP economic and trade rules by stimulating imports of zero-tariff goods such as integrated circuits and semiconductors from Japan. Local information technology enterprises are also encouraged to bring in advanced technologies from countries such as South Korea and Japan, in order to promote 5G development.
Yunnan Pilot Free Trade Zone (FTZ) in southwest China has also released specific policies to expand the scale and channel for exporting high-quality agricultural products, and to promote the construction of major cross-border electricity transmission lines and networks by establishing a cross-border electricity cooperation and trade platform for South and Southeast Asian countries.
East China's Shandong Province has announced initial plans to implement the RCEP as well. The plans include building an international containers hub for ports on the Shandong Peninsula, improving the international and domestic transit function of Qingdao port, and expanding transportation by the sea for goods from Japan and South Korea.
Other provincial-level regions in China, namely east China's Jiangsu Province, north China's Tianjin Municipality and Shanxi Province have also strengthened their efforts in policy explanation of RCEP related issues, providing local enterprises with supporting services, and taking specific measures that are in line with local development.
A number of industrial sectors, such as cross-border e-commerce, textile manufacturing and machinery, are also eyeing the potential to gain long-term benefits through the RCEP. For instance, the development of cross-border e-commerce between RCEP members will be accelerated due to simplified clearance procedures, said Wei Hao, a professor at the Business School of Beijing Normal University, noting that the construction of international logistics system will significantly shorten the time for transportation.
(Edited by Yu Huichen with Xinhua Silk Road, yhc0267@163.com)