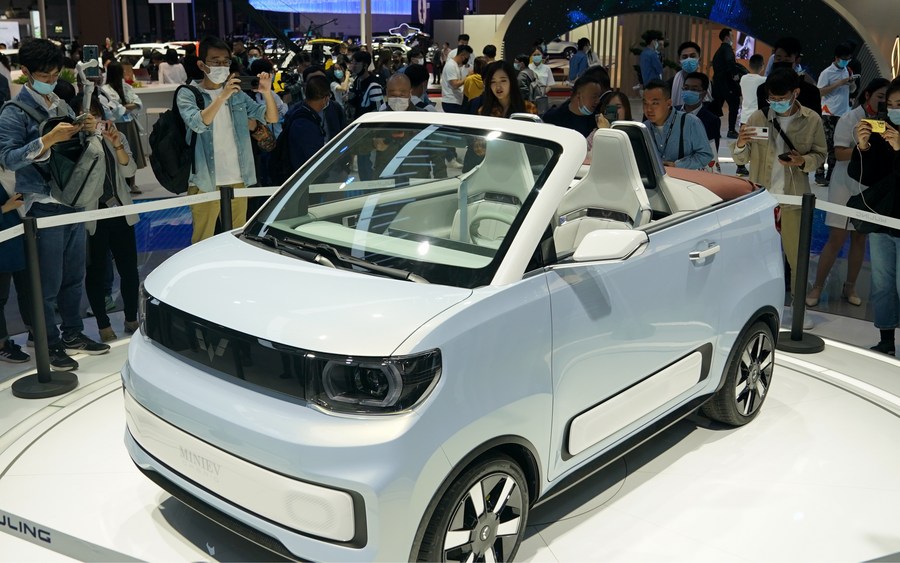 The new energy convertible Hongguang MINIEV CABRIO developed by SAIC-GM-Wuling (SGMW), a major Chinese automobile manufacturer, is displayed at the 19th International Automobile Industry Exhibition (Auto Shanghai 2021) in Shanghai, east China, April 19, 2021. (Xinhua/Ding Ting)
BEIJING, Dec. 1 (Xinhua) -- China A-share market is looking positive next year, with new energy, high-end equipment manufacturing and small and medium-sized enterprises (SMEs) expected to be areas with major investment potential, according to a recent survey taken by 109 industry insiders in assets management.
Survey respondents are generally optimistic or neutral about the macroeconomic situation in 2022, reckoning that infrastructure investment, fiscal policy and manufacturing investment will serve as driving force of future economic growth.
73 percent of the respondents believe A-share being the most promising, followed by rate bonds and bulk commodities. In terms of specific industry sectors with investment potential, most of the participants are optimistic about new energy, high-end equipment manufacturing and SMEs focusing on specialization, refinement, uniqueness and innovation.
Under China's continuous commitments of carbon peak and carbon neutrality, which brings about policy preferences and huge opportunities for environmental, social, and governance (ESG) investment, the respondents generally agree on the presumption of increasing investment in ESG-related fields next year.
The respondents also remain enthusiastic about participating in fixed income markets in 2022, with nearly half of them think most highly of medium and long term rate bonds, followed by convertible bonds and high-grade industrial bonds that are proved to be popular this year.
(Edited by Yu Huichen with Xinhua Silk Road, yhc0267@163.com)