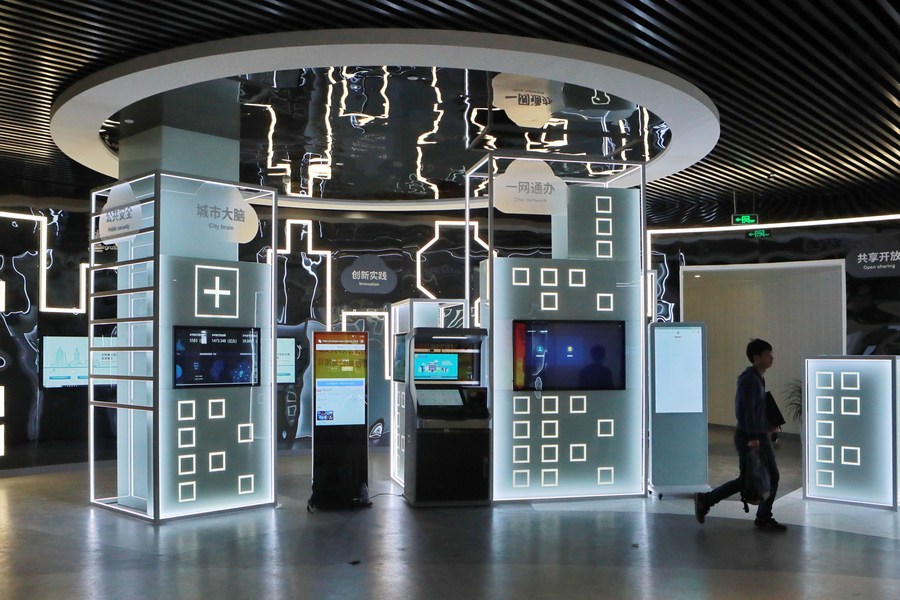 A visitor tours a display center of the National Big Data Comprehensive Pilot Area in southwest China's Guizhou Province, May 22, 2019. (Xinhua/Ou Dongqu)
BEIJING, Nov. 30 (Xinhua) -- The 2021 International Industrial Blockchain Conference kicks off last Friday in Changsha, capital of central China's Hunan Province, with participants mulling over how to boost the technological application and industrial innovation of blockchain.
China's Ministry of Industry and Information Technology (MIIT) will formulate policies from multiple facets such as products, enterprises and ecology to support local governments and accelerate the innovation of blockchain technological application and industrial innovation of blockchain, says Xie Shaofeng, an official with the MIIT.
Blockchain, a new generation of information technology, boasts great value and promising prospects in empowering digital economy, real economy and governance capacity, Xie adds via the video link connected to the conference.
It is noted that there are more than 1,400 block chain enterprises with a relatively complete industrial chain and over 40 blockchain industrial parks in China. The blockchain industry has seen further expansion in fields such as supply chain management, data circulation and intelligent manufacturing.
Rootchain, an industrial blockchain service platform, also made its debut during the conference along with several reports released to present in-depth interpretation of industry policies and trendy technologies and products.
(Edited by Tian Shenyoujia with Xinhua Silk Road, tianshenyoga0524@163.com)