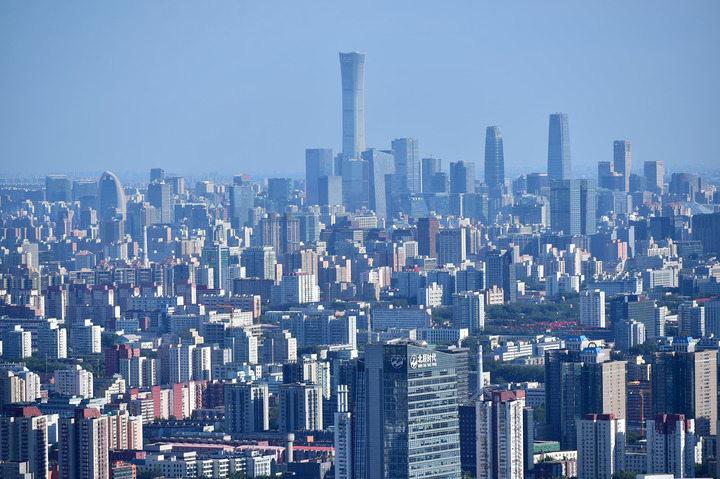 Photo taken on Sept. 9, 2020 shows the view of the skyscrapers of the Central Business District (CBD) in Beijing, capital of China. (Xinhua/Chen Zhonghao)
NEW YORK, Nov. 22 (Xinhua) -- International business community continues to see opportunities in China as Chinese top leaders make renewed pledges to expand opening-up and create a business environment that is market-orientated, law-based and up to international standards.
EXCITING GROWTH OPPORTUNITIES
Despite a concerted campaign of disinformation and a global pandemic, international business has not lost sight of the soundness and long term growth prospects of the Chinese market, said John Pang, senior fellow at Bard College, New York.
Last year saw record levels of foreign direct investment (FDI) into China and that trend continues this year, Pang told Xinhua in an interview via email on November 18.
China, for a variety of reasons, does want to open up parts of its financial sector to outside players and it certainly has worked to strengthen ties with firms like UBS, said Solita Marcelli, chief investment officer for the Americas at UBS Global Wealth Management on November 18.
The strong capital inflow not only consists of foreigners' buying at Chinese equity market through most of the year in 2021, but also foreign investors' buying Chinese government bonds as a global reserve asset as well as strong foreign direct investment, Mehran Nakhjavani, a partner of emerging markets with the MRB Partners, told Xinhua in a virtual roundtable meeting.

"So all aspects of foreigners are continuing to invest in China," said Nakhjavani.
"China is the most important driver for the sustainable, well-governed and inclusive growth of the global economy. No other country has so closely integrated social and environmental agenda with industrial policy to deliver on all three fronts," said Pang, who has worked on policy and strategy in government, business and civil society across East Asia.
International companies with a business model based on delivering real value will find unparalleled opportunities for growth in China, said Pang.
Pang added, "China is where the decisions are being made, the policies being coordinated, the costs being paid, to create the environmentally sustainable and socially inclusive economy that the world needs."
Executives from Honeywell, McDonald's, Boeing and a number of other U.S. international giants recently underscored the importance of Chinese market and growth opportunities there at their earnings call conferences for the third quarter.
"China remains a critically important market for us and one where we have confidence in the long-term opportunity," said Kevin Ozan, executive vice president and chief financial officer with McDonald's on Oct. 27.
CAN'T AFFORD TO GET CHINA WRONG
The recent pledges by Chinese top leaders to expand opening-up and build a well-defined business environment "are not empty words driven by short term political cycles but a statement of fundamental policy, a carefully worded set of promises made against a long timeline," said Pang.
Pang said the context in which the pledges were made could not be more serious after the recent sixth plenary session of the 19th CPC Central Committee and upon reflection of ups and downs over a century.
"China's statement of its commitment to continue to 'open up' could not have come at a more important time," Pang said.
The pledges are embedded in the CPC's rearticulated self-understanding and integrated with the core domestic visions for common prosperity and an "ecological civilization" are supported by a willingness to work in multilateral frameworks, including in areas of digital governance, according to Pang.
"The international business community cannot afford to get China wrong. As the current supply chain breakdown in the United States shows, we're tightly connected, and China is a very big cog in the machine of the global economy," Pang told Xinhua.
For investors with a long term horizon, they should be invested in both China and the United States and gain exposure to two large and vastly different economies with different growth opportunities and sectoral trends, said Marcelli.
"From our perspective, even though the United States and China are in extreme competition in some areas, it's not gonna be a cold war-like scenario. (The two) Economies are deeply linked and decoupling them would come at a considerable cost," Marcelli said.
Even if it becomes times more difficult for U.S. investors to invest in Chinese assets or vice versa, "I think capital flows between the two countries will continue," Marcelli said.
Marcelli added, "China will, in fact, accelerate the opening up of its financial markets. So I think we always advise investors and our clients to avoid the concentration of investment in a single country and maintain a well diversified portfolio."
Both Marcelli and Nakhjavani expressed their confidence and optimism that the risks arising from Chinese property sector would be well managed.
There is a good chance for a kind of bounce effect which would offer investment opportunities in MSCI China indexes in the next three to six months, according to Nakhjavani.
On a time horizon of six to 12 months, investors should align their investment focus in China with those sectors of the economy which policy makers have already prioritized as being important for the long term development of China, in particular the sectors related to alternative energies, renewable energy and technology, according to Nakhjavani. (Contributed by Liu Yanan, edited by Duan Jing with Xinhua Silk Road, duanjing@xinhua.org)