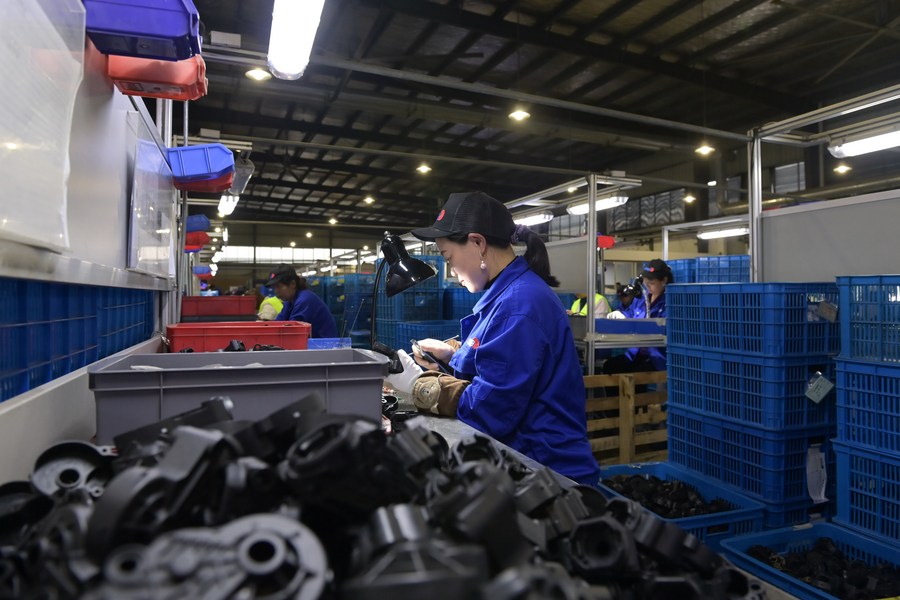 Employees work at an auto parts manufacturer in Chuzhou, east China's Anhui Province, Nov. 6, 2021. (Xinhua/Han Xu)
HEFEI, Nov. 15 (Xinhua) -- The foreign trade volume of east China's Anhui Province exceeded 561.6 billion yuan (about 88 billion U.S. dollars) in the first 10 months of 2021, up 26.6 percent year on year, according to local customs.
Exports exceeded 328.5 billion yuan and imports touched 233.1 billion yuan, a growth of 27 percent and 26.1 percent respectively compared with the same period last year.
Anhui's foreign trade volume in the first 10 months has surpassed that of entire 2020, which stood at 540.6 billion yuan.
From January to October, the United States, the European Union, and the Association of Southeast Asian Nations were the largest trading partners of Anhui, with trade volume reaching about 74.3 billion yuan, 72.2 billion yuan, and 62.1 billion yuan respectively.
The inland province saw its trade with countries along the Belt and Road rise 35 percent year on year.
Private enterprises accounted for 50.2 percent of the province's foreign trade during the period. Mechanical and electrical products, LCD screens, and automobiles remained the main exports of the province.