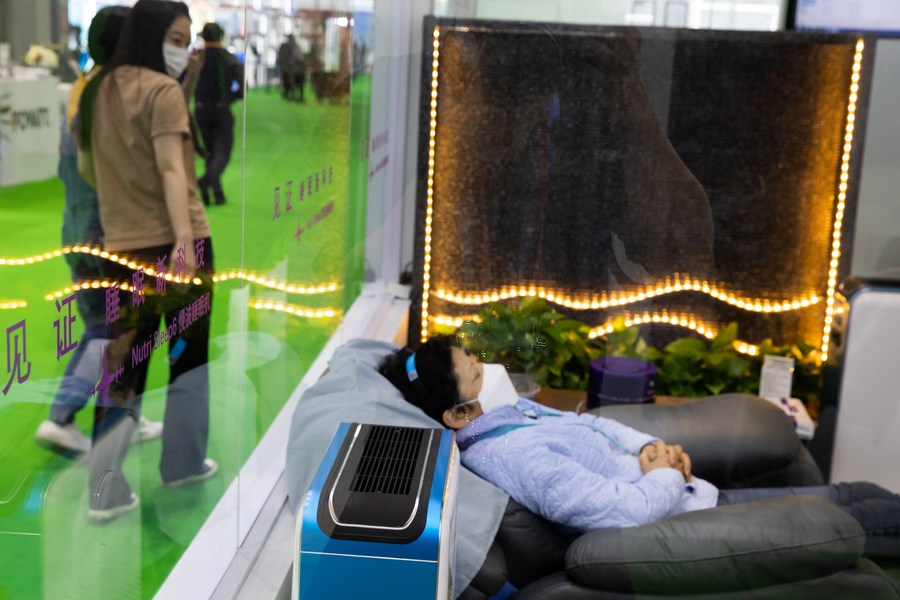 A visitor experiences a product designed for better sleep at the Medical Equipment & Health Care Products Exhibition Area of the 4th China International Import Expo (CIIE) in east China's Shanghai, Nov. 5, 2021. (Xinhua/Jin Liwang)
BEIJING, Nov. 11 (Xinhua) -- The fourth China International Import Expo (CIIE), which concluded in Shanghai on Wednesday, has witnessed consumption upgrade taking place in the country.
China's total retail sales of consumer goods had nearly doubled in eight years from 20.6 trillion yuan (about 3.22 trillion U.S. dollars) in 2012 to 39.2 trillion yuan in 2020, making China the world's second-largest consumer market, said Wang Shouwen, Vice Minister of Commerce and Deputy China International Trade Representative at a recent international economic forum.
"The CIIE is an important platform to foster China's consumer market," said Zhang Min, executive head of Shanghai Exhibition Research Institute and professor of Shanghai University, adding that more import products will trigger consumption upgrade in the country.
-- Greener, smarter and more customized needs
Chinese consumer have showed upgrading demands as their living standards improved. At the 4th CIIE, new technologies and creative products have been presented to consumers for a greener, smarter and more customized lifestyle.
Re-fire, a leading hydrogen fuel cell manufacturer in China, highlighted the expo with a 49-ton heavy-duty truck equipped with hydrogen fuel cell systems, known as PRISMA. With 12 sets of 70 MPa hydrogen fuel cells, the truck can drive up to nearly 1,000 miles after 10 minutes of refueling. According to Re-fire, with CIIE as a significant platform for interntinal exchange, it is committed to providing Chinese and global customers with better and more reliable solutions of green energy and meeting their needs for green consumption.
Tapping the potential of Chinese smart products market, Karcher, a cleaning equipment company from Germany, launched their third-generation intelligent cleaning robot KIRAB 50 at the 4th CIIE. The top-notch robotic floor cleanertook shape thanks to the cooperation between the brand and local team in the process of research, development and manufacturing.
The consumption upgradeof Chinese consumers is not only about seeking rich flavors but also pursuing healthy diets.Nini Chiang, senior vice-president of candy and ice cream of Nestle Greater China, revealed that Nestle has launched different production lines and used healthy and high-end raw materials to meet the personalized and differentiated needs of consumers.
In terms of beauty products, Fabrice Megarbane, President of L'Oreal North Asia Zone & CEO of L'Oréal China, said that personalized products are the new consumption trend. At L'Oréal 's exhibition booth, a new device, Rouge Sur Mesure, allows customers to create thousands of lipstick shades at home. Home users are able to use this "lipstick printer" powered by PERSO to "print" their own personalized lip colors."Thanks tohigh-techs, we are able to build a bridge between the customers' desired products and those they can get and tap new potentials of consumption."
-- More diversified supply
As the Double-11 shopping spree approaches, the CIIE, the largest "global shopping" venue, is also in full swing. The "shopping lists" of major purchasers include equipment manufacturing, energy and resources, foods and agricultural products and consumer goods, which helps fuel the optimization of domestic supplies and consumption upgrade.
The bulk purchase of Chinese trading delegations at the CIIE has enhanced business cooperation and enriched Chinese consumers' shopping carts. In just one hour, the Shanghai trading delegation secured its first deal worth 0.7 billion U.S. dollars. Meanwhile, Shandong Zhongke Electric Power Co. and Danish wind turbine manufacturer Vestas penned a 70 million US dollars purchase deal for wind generators, making it the first deal of Shandong trading delegation at the 4th CIIE.
New cooperation agreements have been inked to provide diversified choices for domestic consumers.
In the food sector, Fonterra, New Zealand's largest dairy company, launched its latest Anchor fresh milk at the exhibition and signed a triangular strategic cooperation agreement with Alibaba's fresh-food chain Hema Fresh and China Southern Airlines' cross-border logistics division. This strategic cooperation enabled the access of Fonterra's New Zealand pasture-based fresh milk into the Asian market for the first time. Xiao Lu, general manager of Hema Commodity Brand Center, said that "the company has evolved from 'global purchase' to 'global customization', bringing quality products from abroad and providing 'customized' products for Chinese customers."
In terms of health service, under the cooperation between Baidu Health and GlaxoSmithKline, the two sides will launch a pilot campaign of preventing herpes zoster to increase the awareness of specific diseases and promote the building of China's preventive health management system. Yang Minglu, general manager of Baidu Health, said, "through this cooperation, Baiduhope to effectively increase the awareness of disease preventionamong middle and old-aged adultsand help with health for all."
Besides, China General Technology has concluded purchase cooperation with companies such as Philips, Phelps Dodge, Siemens, Sri Trang Agro in medical equipment, bulk commodity, technical equipment, digital consumption and consumer goods. The purchase amount exceeded 1 billion US dollars, twice the amount of last year.
-- Huge market for foreign traders
As the Chinese economy fast recovers from the pandemic, more foreign traders eye on the huge Chinese market and seek deeper presence in the world's second-largest consumer market.
Nuraly Bukeikhanov, Deputy General Director of the Centre for Trade Policy Development under Kazakhstan's Ministry of National Economy, believes that the annual CIIE offers Kazakh manufacturers an excellent opportunity to display their products and enter the Chinese market. "Kazakhstan is a country without access to the sea. For us, China is a huge market as vast as the ocean."
Voices from enterprises also echoed that China's consumption market will provide various opportunities for them.
"China has always been a huge and vibrant market for all countries to expand their business," said Poul Due Jensen, President of Grundfos Group, Denmark. "China provides steady impetus for the world economic development. We want to further engage in China's high-quality economic development and achieve more win-win cooperation results."
Fabrice Megarbane stated that many ideas of L'Oreal came from China. China's new development pattern helps "bring the world's best things to China. At the same time, China's innovation is not only for itself but also the whole world."
The numerous deals signed at the CIIE made Italian furniture manufacturer full of confidence in the future. The Italian brand plans to set up factoriesinChina and cooperate with more agencies, nursing homes and local governments to provide better space solutions for Chinese families. "It takes a long trip and a certain periodof time for quarantine. But it's all worthy compared to what we benefited from the CIIE."
(Edited by Li Shimeng with Xinhua Silk Road, lishimeng@xinhua.org)