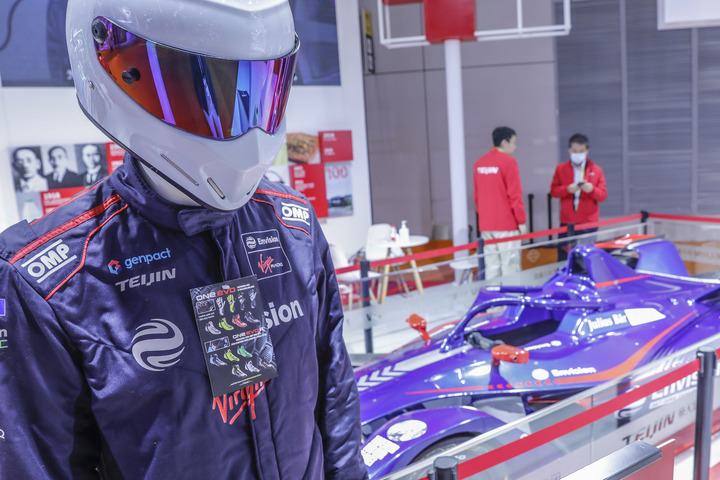 Photo taken on Nov. 5, 2021 shows a racing jacket made from new fiber materials at the Low-carbon Energy and Environmental Protection Special Exhibition Area of the 4th China International Import Expo (CIIE) in east China's Shanghai. (Xinhua/Zhang Yuwei)
BEIJING, Nov. 11 (Xinhua) -- Chinese central bank, the People's Bank of China (PBOC) announced Monday rollout of a lending tool for carbon emission reduction, providing new capital to financial institutions to boost their lending to enterprises engaged in sectors key to carbon emission reduction.
According to PBOC, low-cost capital will be provided to financial institutions to guide them on the premise of independent decision-making and risk-taking to provide loans equitably to related firms and interest rates of loans backed by the new tool shall be basically in line with the loan prime rates (LPR) of the same terms.
-- Three sectors prioritized for carbon emission reduction
As a PBOC official in charge of related business introduced, the Chinese central bank will work with related departments to support three key sectors for carbon emission cutting, including clean energy, energy conservation and environmental protection, and carbon reduction technology as well based on a combination of multiple domestic standards and in accordance with international standards.
In the initial phase, priority has been given to supporting a "small and selected" group of sectors that are in their initial phase of development but will have great potential for reducing carbon emission, and that will yield significant carbon emission reduction if a certain amount of financial support is offered.
For clean energy, subsectors such as wind power, solar energy, biomass energy, pumped storage hydropower, hydrogen energy, geothermal energy, marine energy, heat pump, high-efficient energy storage (including electrochemical energy storage), smart grid, large-scale integrated wind and photovoltaic (PV) source-grid-load-storage projects, county-level application of household distributed PV power generation, inter-regional clean electricity transmission systems, emergency power supply, and peak load regulation are all included.
For energy conservation and environmental protection, projects that will improve industrial energy efficiency and the transformation of new power systems are included. Carbon emission reduction technology mainly includes carbon capture, storage and utilization.
The scope of sectors supported will be up to adjustment in accordance with industry development and policy needs.
The official stressed that the new tool is concerned with "addition", using incremental capital to support investment and construction of key sectors such as clean energy, to increase overall energy supply capacity. Financial institutions should provide financing support according to the principle of marketization and the rule of law, and help ensure energy security and supply guarantee, as well as facilitate green and low-carbon transformation.
Wen Bin, chief researcher with China Minsheng Bank, believed that "using incremental capital" does not mean curtailing support for traditional energy. Financial institutions will continue to provide traditional energy with the necessary financial support, and further increase support for clean energy and carbon reduction at the same time.
-- Smooth mechanism to pump funds into carbon emission reduction sectors
The PBOC official said that the means by which financial institutions apply for the new tool is based on a mechanism under which financial institutions can apply for low-cost funding from the PBOC after the loans for carbon emission reduction are made.
The PBOC will provide 60 percent of the loan principal made by financial institutions for carbon emission reduction at a lending rate of 1.75 percent for one year. Such loans can be rolled over twice. Financial institutions need to provide the PBOC with eligible collateral.
Keeping interest rates in line with the LPR will help financial institutions provide low interest rate loans to carbon emission reduction sectors, which helps lower the cost of financing for firms, said Wen. According to Wen, compared to relending, which is capped, the new tool, without a credit limit, is aimed at the longer term, and will help financial institutions take the initiative, and increase support for green industries.
Financial institutions should take the launch of the tool as an opportunity to establish a sound green financial system, make good use of low-cost funds, and secure new market opportunities in green development by allocating and guiding financial resources and handling short- and long-term relationships correctly, said Dong Ximiao, chief researcher with Merchants Union Consumer Finance Company Limited.
-- Demonstration effect of the new tool to leverage deeper green transformation
When applying to the PBOC, financial institutions need to provide carbon emission reduction data related to such loans and commit to publicly disclosing relevant information. They also need to calculate the annual amount of carbon emission cuts financed by these loans based on carbon emission reduction feasibility studies, environmental impact assessment reports, or assessment reports issued by recognized professional institutions, and the proportion of loans to total investment.
After obtaining funding from the new tool, financial institutions are required to disclose information on the new lending tool-financed carbon emission reduction sectors, projects number, and loans amount, and the weighted average interest rates of related loans and carbon emission reduction data every quarter, and are subject to public supervision. The PBOC will work with the relevant departments to verify the authenticity of the information released by financial institutions by way of various methods, including verification from a third-party professional institution.
The PBOC official stressed that, by identifying the key sectors of carbon emission reduction, and enhancing disclosure of such information by financial institutions, the new tool will play its policy demonstration effect in guiding financial institutions and enterprises to understand in a more thorough manner green transformation, channeling more funds into green and low carbon sectors, and promoting the concepts of green production and lifestyle as well as the circular economy to firms and the public. All of these will help facilitate realization of China's carbon emission peaking and carbon neutrality goals. (Edited by Duan Jing with Xinhua Silk Road, duanjing@xinhua.org)