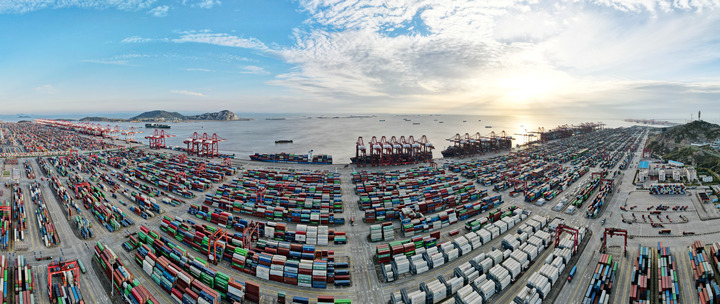 Aerial photo taken on April 6 shows the Yangshan port in Shanghai. (Photo by Fang Zhe/Xinhua)
BEIJING, Nov. 8 (Xinhua) -- ChinaBond BoCom Yangtze River Delta ESG Select Credit Bond Index, the first high-grade debentures index compiled to support the integrated development of the Yangtze River Delta, made its debut during the 4th China International Import Expo (CIIE), reported Xinhua-run Shanghai Securities News Monday.
The index, released jointly by China Central Depository & Clearing Co., Ltd. (CCDC) and Bank of Communications (BoCom), aims to precisely reflect the dynamics of high-quality debentures in the Yangtze River Delta and contains 775 underlying bonds, which, issued by 105 entities in the delta, boast market capitalization of 1.72 trillion yuan.
Liu Fan, deputy general manager of CCDC said launching the index marked latest efforts of CCDC and BoCom to echo the integrated development strategy in Yangtze River Delta and by developing related products in future, the index is expected to help boost fund flows to the Yangtze River Delta, optimize financial resources distribution and improve the efficiency of financial services in facilitating the real economy.
Qiao Hongjun, general manager of the financial market department of BoCom explained the growth potential, safety of underlying assets and social benefits of the index, suggesting that domestic and foreign investors can pay attention to, track and invest in the index related products and managers of fund products, wealth management products and structured deposit products can take the index as a benchmark for comparison of performances of their portfolio targets.
The index adopts the ESG appraisal results of CCDC as the criteria for debenture selection and focuses on the comprehensive performances of issuers in environment performances, social responsibility and corporate governance, helpful to channel market capital into corporate issuers with gratifying ESG performances and better the role of financial services in serving the real economy and structural reform.
On each trading day, the performance of the index is released on China interbank bond market.
BoCom is one of the largest institutional investors, bond underwriters and market makers on China interbank bond market.
CCDC, as an important financial infrastructure in China, serves as a portal for opening-up of China's bond market and formation of financial market pricing benchmarks. The ChinaBond series of bond indexes of varied types that CCDC releases have been vital benchmarks for investors in Renminbi-denominated bond market to track and compare performances of their investment targets.
By the end of the third quarter, bond index funds taking ChinaBond indices as investment targets approached 300 billion yuan, accounting for 86 percent of the comparable products and bond funds taking ChinaBond indices as performance benchmarks stood at around 3 trillion yuan, taking up 83 percent of the comparable total. (Edited by Duan Jing with Xinhua Silk Road, duanjing@xinhua.org)