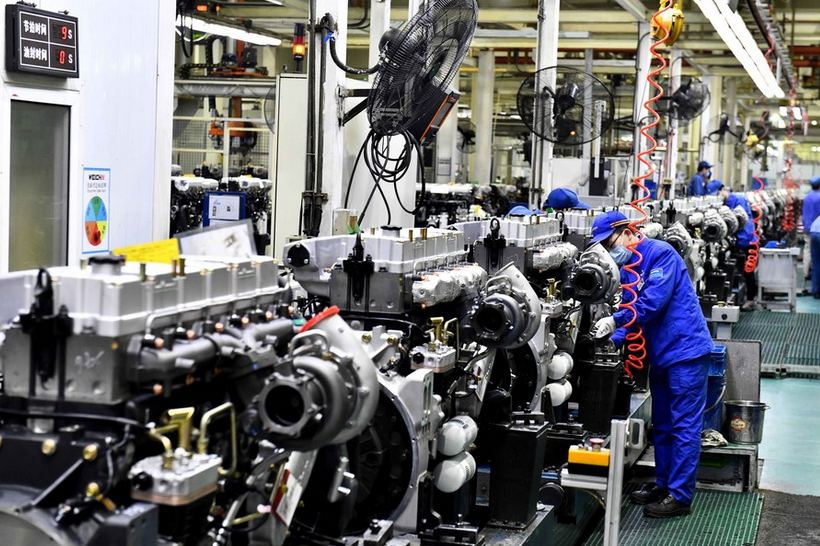 Workers assemble engines on an assembly line at a workshop of the Weichai Power Co., Ltd. in Weifang City, east China's Shandong province, April 22, 2021. (Xinhua/Guo Xulei)
BEIJING, Oct. 22 (Xinhua) -- A report on China's state-owned natural resource assets and the management has been delivered to national lawmakers for deliberation during the ongoing session of the Standing Committee of the National People's Congress, China's top legislature.
By the end of 2020, the total area of state-owned land in China stood at 523.338 million hectares, the report said. In breakdown, land for construction, arable land, and wetland reached 17.61 million hectares, 19.57 million hectares, and 21.83 million hectares, respectively.
Some 173 types of mineral resources have been discovered in China, according to the report. By the end of last year, recoverable reserves of petroleum and natural gas reached 3.62 billion tonnes and 6.267 trillion cubic meters, respectively, while coal reserves hit 162.29 billion tonnes.
According to the United Nations Convention on the Law of the Sea and China's claims, about 3 million square kilometers of sea area is under China's jurisdiction, said the report.
China has more than 11,000 islands and a coastline stretching about 32,000 kilometers. The country has more than 20,000 kinds of marine life, including more than 3,000 marine fish types.
China has issued a series of documents covering the reform of the property rights system of natural resource assets, the nature reserve system, the "river or lake chief" system, the "forest chief" scheme, and natural forest protection and restoration, among others.
The country has strengthened legislation on natural resources, promulgating and implementing the Yangtze River Protection Law and Biosecurity Law and completing the revision of the Land Management Law and the Forest Law. It is also making steady progress in legislating or revising laws on mineral resources, developing and protecting territorial space, wildlife and wetland protection, and national parks.
During the 13th Five-Year Plan period (2016-2020), more than 4,300 cases of compensations due to ecological damage were handled nationwide, with the compensation amount exceeding 7.8 billion yuan (about 1.22 billion U.S. dollars).
The reports said efforts are needed to strengthen the protection of natural resources, improve efficiency in using natural resources, and promote the quality and stability of the ecological system. Enditem