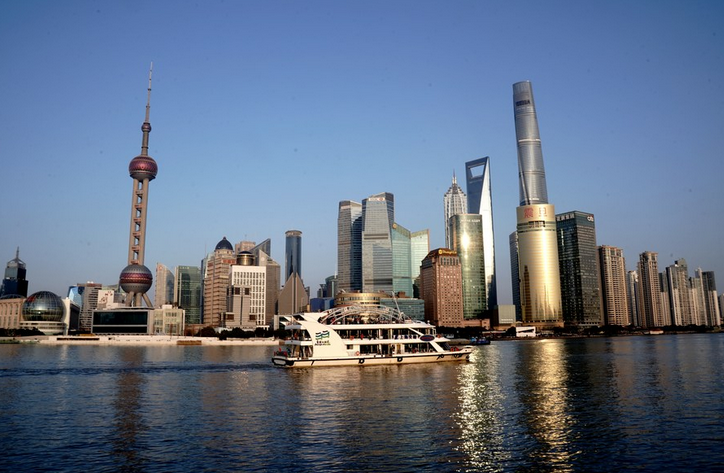 A tourist boat sails on the Huangpu River next to the Bund in east China's Shanghai, Feb. 14, 2021. (Xinhua/Zhang Jiansong)
BEIJING, Oct. 21 (Xinhua) -- China's economy has gone through a complex of challenges including the COVID-19 pandemic and flood but generally secured the trend of recovery. In the first three quarters, China's economic growth reached 9.8 percent, higher than the expected 6 percent.
Despite the slower economic growth, heavier pressure of transformation and more risks and challenges from both home and abroad, China has secured the trend of economic recovery, the trend of high-quality development, and its strategic focus, showcasing its great economic resilience and vitality.
-- Economic growth slightly went down, economic recovery trend secured
According to data from the National Bureau of Statistics (NBS) released on October 18, China's gross domestic product (GDP) in the first three quarters was 82,313.1 billion yuan, a year-on-year growth of 9.8 percent and a two-year average growth of 5.2 percent.
The growth in major economic indicators including the added value of industries above designated size, consumption, and fixed-asset investment, all slightly went down year on year compared with the first half of the year.
However, the rebound of economic indicators in September showed China's economic resilience. Consumption grew at 4.4 percent, 1.9 percentage points higher than that in August. Investment in manufacturing ascended against adversities, and the January-September growth averaged 3.3 percent for two years. The growth of export reached 28.1 percent in September, higher than expectation.
The trend of sustained economic recovery and high-quality development will remain unchanged, suggesting China has the ability and conditions to achieve the economic and social development targets set for the year, said NBS spokesman Fu Linghui.
In the first three quarters, 10.45 million urban jobs were created, 95 percent of the set target; per capita disposable income increased 9.7 percent year on year, generally corresponding to the economic growth; industrial enterprises above designated size secured a two-digit profit growth.
The growth in indicators on living standard and enterprises' profits tells a stronger momentum of high-quality and sustainable development. China's positive economic fundamentals and long-term trajectory remain unchanged.
-- Heavier transformation pressure does not impede high-quality development
The prominent challenge is the real economy lacks demands and favorable policies are needed to stimulate domestic demands and create stable economic growth points, said Lian Ping, chief economist at Zhixin Investment Research Institute.
New driving forces are generated amid pressure and changes. China is progressing in economic restructuring and continuously elevating economic quality and efficiency.
Industrial structure keeps optimizing. In the first three quarters, the proportion of the added value of manufacturing was 27.4 percent, 1.1 percentage points higher than the same period of the previous year; the added value of hi-tech manufacturing above designated size grew 20.1 percent year on year, faster than all industries above designated size.
Demand structure keeps improving. In the first three quarters, final consumption expenses contributed 64.8 percent of economic growth, 3.1 percentage points higher than the first half of the year. Faster increases were seen in upgrade consumption and hi-tech industrial investment.
Green development keeps progressing. In the first three quarters, energy consumption per unit of GDP dropped 2.3 percent year on year, 0.3 percentage point lower than the first half of the year. More green and low-carbon smart products were presented, and the output of new energy vehicles doubled.
Secured supply of daily necessities and marked increase of output of hi-tech products reflect the ever-improving economic structure and quality, said Xu Hongcai, deputy director of Economic Policy Commission of China Association of Policy Science.
-- More risks and challenges from home and abroad, strategic focus remains unchanged
Fu Linghui restated that the international environment is unstable and full of uncertainties, and China's economic recovery yet is not steady and balanced, implying more challenges to stable economic operation.
The manufacturing PMI in September was below the threshold, and that of small and medium-sized enterprises was no exception, indicating the higher cost of raw materials resulted by higher price of bulk commodities has thrown enterprises into production dilemma. The global pandemic lingers and holds back world economic recovery, which makes foreign trade face various uncertainties.
The Chinese government has rich macro regulation experiences from its long-term practices. In recent years, on the basis of range-based regulation, China has exercised targeted and precision regulation that enables it to keep its economy within a proper range and promote sustained and healthy economic development.
The macro-level policies need to be more positive and effective, in order to address cross-cycle readjustment. Positive fiscal policies should be introduced to accomplish the special bond issuance and fiscal expenditure targets for the year and stimulate the growth of effective investment, according to Tang Jianwei, chief researcher of the Bank of Communications.
(Edited by Gao Jingyan with Xinhua Silk Road, gaojingyan@xinhua.org)