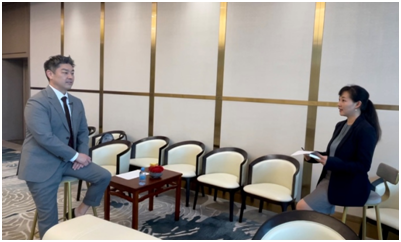 Michael Garvey, Managing Director of the Board, President of Cheerland Biomedicine (CLBiomed) speaks during an interview in Shenzhen, south China's Guangdong Province, Oct. 15, 2021.
BEIJING, Oct. 19 (Xinhua) -- China's biomedical industry is transiting from the more clinical stage into a more commercial stage, and Cheerland is now at a critical phase in China and will attach more importance to the Chinese market, Michael Garvey, Managing Director of the Board, President of Cheerland Biomedicine (CLBiomed), told Xinhua at an interview in Shenzhen.
Garvey places high hopes on the Chinese market, as he said that China is expected to taking the lead and become the largest market in the world medical industry in the next five years, and Cheerland, a cutting-edge biotech developer based in Shenzhen of south China's Guangdong province, would take the advantage of Chinese market and expand businesses into the United States or even Europe to developing into the most vigorous CDMO enterprises in the world.
To facilitate Chinese medical industry's supply chain to attain a faster growth, Cheerland is helping to commercialize China's the supply chain and balance the difference between demand and supply, according to Garvey.
Data from Cheerland's marketing house shows the company's optimistic view about potential Chinese market in biomedical industry. Garvey added that China has a superb biology economic value to the global market, and it is a very fast growing market.
Garvey said he upholded a philosophy to fulfill unmet medical needs to all people across the world, and provide access to all people to affordable medicines and supporting facilities, or even some medicines will do for free.
Mentioning China with a huge population of 1.4 billion, he would try to help foster the Chinese market and develop the next generation biotech technology within China, Garvey told Xinhua.
"China's Guangdong-Hong Kong-Macau Greater Bay Area is a very growth market, but I think some of our barriers that we need to look in the Greater Bay Area is how can we take it from a competitive advantage across companies to a collaborative environment," said Garvey.
With 25 years of experiences in international biotech & CDMO, Michael Garvey held various executive, technical, and operational leadership positions in biopharmaceutical companies in the Unite States, Asia, and Europe, who also served as Global Head of Technical Operations, BeiGene; a founding Executive member and Vice President of Samsung Biologics Manufacturing, where he helped design, validate, technology transfer, operate, and successfully licensed an impressive over 14 novel medicines in the largest Drug Substance facility (362,000L of capacity) in a single location.
Founded in 2016, the CLBiomed aims to build a world-class biotech enterprise, offering a wide array of products and services, ranging from diagnoses, pharmaceuticals, and healthcare services.
(Contributed by Mao Lili, Li Yan, edited by Jiang Feifan with Xinhua Silk Road, 346129473@qq.com)