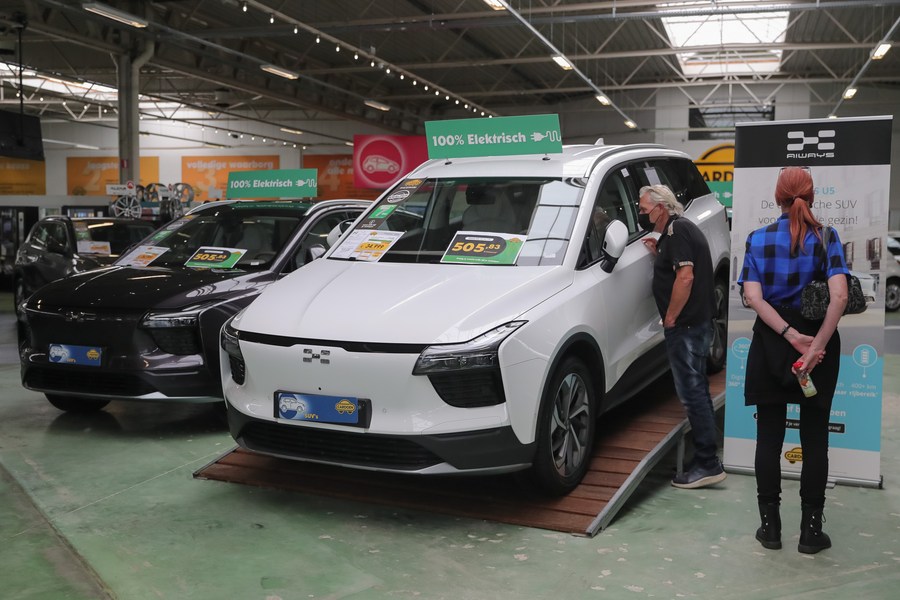 Visitors learn about Aiways electric cars imported from China at a showroom of an automobile market in Wilrijk of Antwerp, Belgium, July 8, 2021. (Xinhua/Zheng Huansong)
BEIJING, Oct. 14 (Xinhua) -- Chinese carmakers exported 1.318 million vehicles during the Jan.- Aug. period this year, with a record year-on-year increase of 117.5 percent, said official data.
The better-than-expected performance of China's auto exports amid multiple challenges, such as chip shortage and global pandemic, is believed to attribute to new growth drivers, including the green vision, export pattern and product quality.
Going forward, China's auto industry is likely to embrace a rosier future, as more Chinese brands are heading to the global market.
-- Growing popularity
Chinese vehicles, passenger vehicles and commercial vehicles alike, are gaining popularity in overseas markets. Customs data showed that in the first eight months of this year, China's auto export value reached 137.7 billion yuan, up 111.1 percent year on year, surpassing the annual growth rate in 2020.
Such progress is largely due to Chinese automakers' expanded presence and a larger share taken in the overseas market.
For example, China's famous automaker Hongqi has opened three flagship stores in Saudi Arabia, completing the company's strategic sales network that includes three major Saudi cities of Jeddah, Riyadh and Dammam.
"The sales have exceeded all our expectations across all the models," said Mohammed Abduljawad, chairman of Universal Motors Agencies, a local car dealer that cooperates with Hongqi.
Meanwhile, other Chinese carmakers also raked in huge profits in their pursuit of larger global customer base.
According to the SAIC Motor's person-in-charge, in the first six months, the group sold 265,000 vehicles overseas, up 112.8 percent year on year. SAIC Motor's products and services are now available in more than 70 countries and regions, forming three major regional markets with supply capacity of 50,000 units and another six centers with supply capacity of 10,000 units.
In this August, Great Wall Motor (GWM) sold 12,399 new vehicles in overseas markets, up 81.1 percent year on year, and its overseas sale volume in the first eight months registered 86,509 vehicles with a year-on-year increase of 156.8 percent. The overseas market turns out to be the most promising market segment of GWM.
During the same period, Geely Auto exported 66,701 vehicles, which are highly popular among the users in many countries.
Apart from passenger cars, vehicles for commercial use made by Chinese auto firms also shine in global market. China exported 33,000 commercial vehicles with a year-on-year increase of 85.7 percent in this August, said China Association of Automobile Manufacturers (CAAM).
In Britain, China's leading new-energy vehicle (NEV) manufacturer BYD has largely contributed to the countries' greener transport. By this May, the firm had sold over 1,000 electric buses to the country.
-- New growth drivers
In recent years, China has constantly improved quality, technology and service in the auto industry, driving the rapid growth in the auto exports.
In respond to the global green development pursuits, China NEV makers are tapping potentials of global NEV market. Many Chinese electric vehicle (EV) makers have chosen Europe as the first stop of their overseas launch since last year, as the region lures such industries with favorable policies.
For instance, BYD will deliver 1,500 NEVs to Norway by the end of this year. The first batch of 100 BYD electric SUVs has been shipped to Norway, the first European country in which BYD has expanded its passenger car market, at the end of May. So far BYD's NEVs are available in the following countries, including the US, Canada, Brazil, Chile, Mexico, Colombia, Ecuador, Uruguay, Argentina, and Panama.
Another new highlight is the innovated export pattern seen among Chinese automakers. "The pattern of Chinese automakers to 'go global' has changed. They started to invest and set up factories in Indonesia, Thailand, India, Russia and other countries. Such localized production pattern represents the future direction for the Chinese automakers to go global", said Xu Haidong, deputy chief engineer with CAAM. This move is a wise one as car manufacturers may have access to export to other ASEAN member states should they meet certain localization criterion in establishing local JV factories in one of them, according to analysis by an industrial insider.
The third growth driver is the improved quality of Chinese exported vehicles. Quality speaks louder than branding. Best-selling products recognized by domestic consumers are surely also welcomed by consumers overseas, said Xu. For example, in the first seven months of this year, 4,773 GWM pickup trucks were sold in Chile, ranking second in the local market while Geely and SAIC Motor also sold well in the region of southeast Asia.
-- Huge potential in future
The explosive rise of China's auto exports in 2021 reflects the significant increase in the global competitiveness of China's auto industry, while huge potential in auto exports still awaits in the future, said Cui Dongshu, secretary-general of the China Passenger Car Association.
In recent years, more and more Chinese carmakers are going global as internationalization has become a major trend in China's auto industry.
"China's auto brands have established good reputations in foreign countries with their growing competitiveness", said Xu, adding that firms are facing a key juncture of fast development and sustained efforts should be made on products, export pattern and branding.
Industrial players are mostly upbeat that the encouraging momentum is going to continue.
From the perspective of foreign trade, Fu Linghui, spokesperson of China's National Bureau of Statistics (NBS), is confident on the ground that the global economic recovery is sustainable at large, despite the recent slowdown due to the impact of COVID-19.
Moreover, China boasts an all-round industrial system with strong supporting capacity and well-established overall production, offering a staunch support for export enterprises. The foreign trade is expected to continue its growth thanks to the supporting nation-wide policies and emerging business models, such as cross-border e-commerce and oversea warehouses.
With respect to the domestic automobile industry, CAAM holds that the industry will maintain a stable production and consumption in the fourth quarter (Q4) based on the sustainability of national economy.
BYD is expected to maintain its upward momentum in Q4, 2021 andembracea promising future under the global carbon neutrality policy and tightening environmental regulations.
SAIC Motor said that the group plans to sell 550,000 vehicles in overseas markets to expand presence in the Middle East, Australia and New Zealand, ASEAN, India and Europe.
(Edited by Li Shimeng with Xinhua Silk Road, lishimeng@xinhua.org)