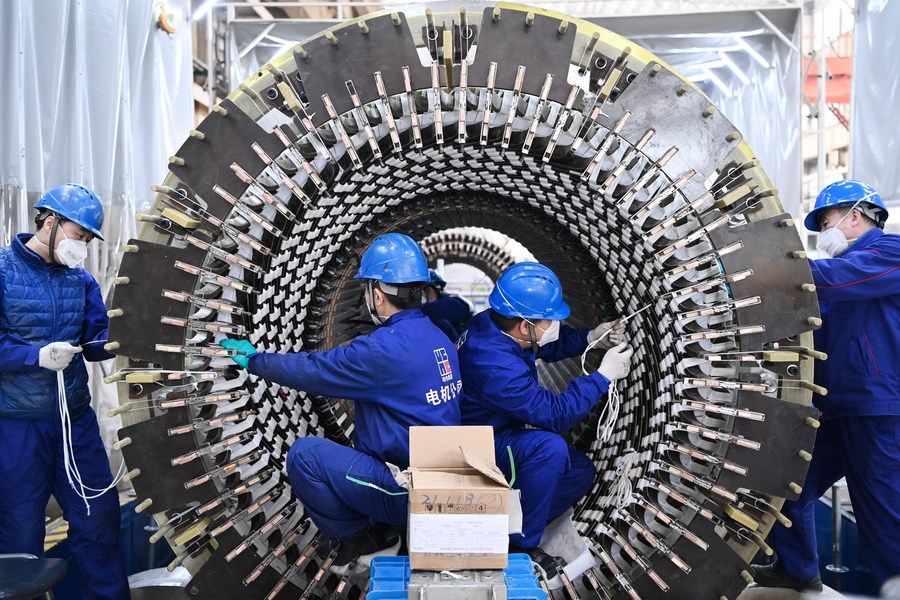 Workers are seen at a workshop of the Harbin Electric Machinery Company Limited in Harbin, capital of northeast China's Heilongjiang Province, Feb. 22, 2021. (Xinhua/Wang Jianwei)
BEIJING, Oct. 10 (Xinhua) -- China's machinery industry maintained robust growth in the first eight months of the year, registering double-digit expansion in revenue, profits and added value, official data showed.
The combined operating revenue of companies in the sector came in at 16.49 trillion yuan (about 2.55 trillion U.S. dollars) from January to August, soaring 21.5 percent year on year, according to the Ministry of Industry and Information Technology.
During the period, the companies' total profits rose 16.4 percent from a year ago to 980 billion yuan, the ministry said.
In the Jan.-Aug. period, the added value of China's machinery industry climbed 16.2 percent year on year, 3.1 percentage points higher than the overall growth of China's industrial sector.