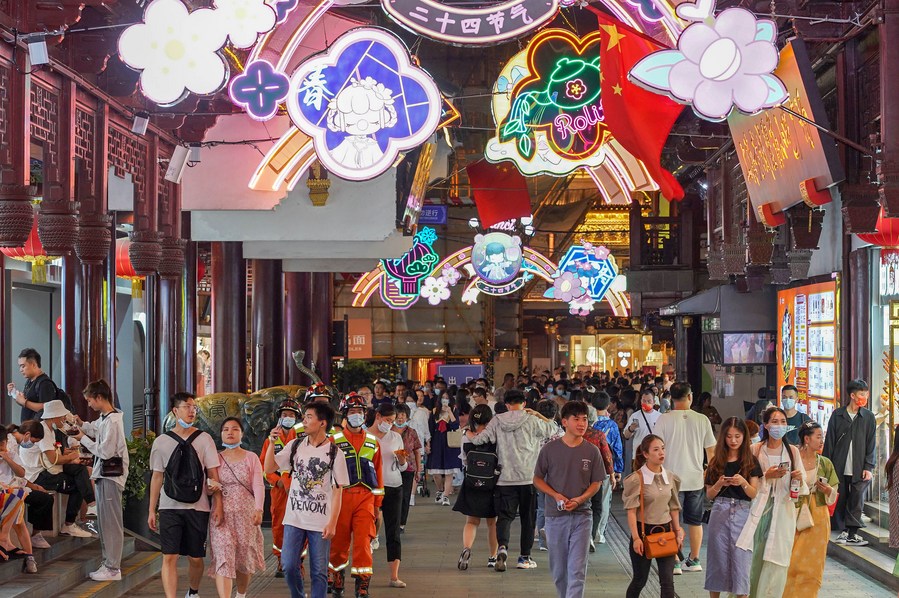 People visit the Yuyuan Garden during the week-long National Day holiday in Shanghai, east China, Oct. 2, 2021. (Xinhua/Wang Xiang)
BEIJING, Oct. 8 (Xinhua) -- China's online and offline consumption has continued to rise during the week-long National Day holiday, driven by various consumption promotion activities and favorable policies, including providing preferential prices, issuing coupons, etc., reported Securities Daily Thursday.
According to data from Alibaba Group's online marketplace Tmall Global, from October 1 to 4, the turnover on the platform rose by 50-odd percent year on year.
Data also showed that during the National Day holiday this year, the growth rate of import consumption in cities below the fourth and fifth tiers and in rural areas was higher than that in the first- and second-tier cities, and the year-on-year growth of import consumption in townships and rural areas registered 55 percent.
According to Trip.com Group, a Shanghai-based global travel services provider, during the National Day holiday this year, destinations with distinctive cultural elements are gaining the fastest popularity on the platform.
For instance, the platform's year-on-year growths of travel bookings for central China's Henan Province which is known for high-quality holiday parties in recent years, and southwest China's Chongqing Municipality which is famous for 8D magic scenes and immersive experience tourism, were both among the top ten nationwide.
The travel bookings for Changsha, the capital city of central China's Hunan Province and also an internet celebrity city renowned for internet celebrity catering, grew by 87 percent from the start of the year during the National Day holiday.
According to piaofang.taopiaopiao.com, a box office tracker under Alibaba Pictures, from October 1 to 12:30 on October 7, China's total box office (including presales) reached 4.085 billion yuan.
Affected by the resurgence of the COVID-19 pandemic around the globe in the short term and the acceleration of consumption upgrade in the medium-and long-term, China's holiday consumption presents a new trend of localized, personalized, digital and green development, and quality and scene-based consumption upgrade stood out during the National Day holiday, said Liu Xiangdong with the China Center for International Economic Exchanges.
Wang Bin, deputy director of the Department of Market Operation and Consumption Promotion of the Ministry of Commerce, predicted that China's consumption would continue to recover steadily in October and throughout the fourth quarter, and the retail sales of consumer goods may reach 44 trillion yuan this year, an increase of about 12.5 percent over 2020 and about 8 percent over 2019.
Liu Xiangdong believed that China's consumption in the fourth quarter would continue to grow, with personalized, diversified rational consumption increasing and cultural and entertainment consumption maintaining rapid growth.
(Edited by Gu Shanshan with Xinhua Silk Road, gushanshan.1987@163.com)