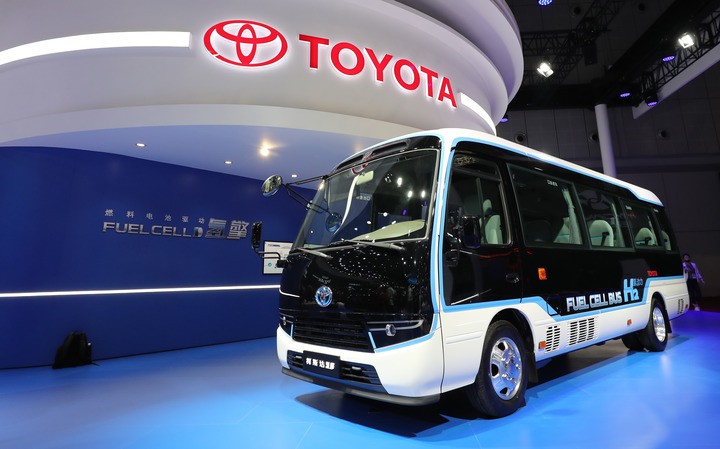 A Toyota hydrogen fuel cell bus is displayed at the 19th International Automobile Industry Exhibition (Auto Shanghai 2021) in Shanghai, east China, April 19, 2021.
BEIJING, Sept. 29 (Xinhua) -- China's hydrogen industry draws increasing attention as a vital support for achieving carbon neutrality and carbon peak goals.
The country is intensifying policy support for the hydrogen industry, including accelerating infrastructure construction and optimizing its development environment.
Chinese and foreign companies are also increasing their investment in this field. Experts believe that China's hydrogen industry is embarking on a fast track of development, with a market worth of trillions of yuan waiting to be tapped.
-- Increasing policy support for hydrogen industry
The national comprehensive demonstration hydrogen production project,the world's largest water electrolysis hydrogen production project led by Baofeng Energy, was put into operation in Ningxia in April this year.
It produces green hydrogen and green oxygen by electrolyzing water using solar energy as the power source. The resulting hydrogen and oxygen are used to replace fossil fuels in production of high-end chemical products, thus blazing a trail of replacing fossil fuels with new energy.
It will reduce the consumption of nearly 400,000 tonnes of standard coal and the emissions of about 700,000 tonnes of carbon dioxide each year.
In recent years, relevant authorities have issued numerous policies to guide the development and application of hydrogen energy and accelerate its industrialization. The Ministry of Industry and Information Technology announced recently that it would work closely with other departments to formulate the hydrogen development strategy and support the inclusion of hydrogen-fueled combustion engines in it.
Beijing has recently issued an implementation plan for the development of hydrogen energy industry, which proposed to expand the scale of the hydrogen industry in the Beijing-Tianjin-Hebei region to exceed 100 billion yuanby 2025.
According to the plan, about 37 new hydrogen refueling stations shall be built and over 10,000 hydrogen-fueled buses shall be brought to the market.
Besides, Sinopec Hydrogen Energy (Tianjin) Co., Ltd. was established in Tianjin not long ago. The company will focus on the demonstration operations of hydrogen-fueled buses and the construction and operations of hydrogen refueling stations to build an integrated "bus-station-scenario" model. It aims to provide competitive hydrogen-fueled vehicle services for end-users and promote the sustained and vicious cycle of the whole industrial chain.
-- Accelerated layout by Chinese and foreign enterprises
Chinese and foreign enterprises are accelerating their business layout in the huge Chinese market. Haima Automobile recently announced that it planned to launch about 2,000 hydrogen-fueled vehicles for demonstration operation by 2025.
According to Peng Huagang, secretary general of the State-owned Assets Supervision and Administration Commission of the State Council, said that over one-third of centrally-administered state-owned enterprises have drawn up plans for the layout of the whole hydrogen industrial chain, including hydrogen production, storage, refueling and usage, and achieved R&D and demonstration application results.
Meanwhile, large international companies are also speeding up their pace of business layout in China's new energy industry. At its recent global online press conference, Hyundai Motor Group, a leading global enterprise in the hydrogen industry, put forward its plan of popularizing hydrogen energy by introducing new technologies in various fields and officially released its vision of hydrogen and a hydrogen society.
According to Hyundai, it has largely reduced the costs of the fuel cell system over the past 20 years. It will start with commercial vehicles that emit larger amounts of carbon dioxide and launch new commercial vehicles such as hydrogen-fueled and pure electric cars and heavy-duty trucks. It aims to become the first automobile manufacturer that fully electrifies its commercial vehicle lineup by adopting hydrogen fuel cell systems by 2028.
In March this year, Hyundai set up its first overseas fuel cell system manufacturing and sales base in south China's Guangzhou. Its hydrogen fuel cell vehicle NEXO will also be introduced to China soon.
-- Rapid development
In 2020, China became the world's largest hydrogen production country with hydrogen output and consumption both exceeding 25 million tones. China has initially formed an all-around development pattern of basic research, application research as well as demonstration and promotion, covering the whole industrial chain from production, storage, transportation, refueling to application.
Experts said that, as one of the cleanest energies, hydrogen is an important transition from fossil energy to renewable energy with enormous potential and prospects. It will play a significant role in China's path towards carbon peak and carbon neutrality.
It is estimated by China Hydrogen Energy and Fuel Cell Industry Alliance that by 2025, the output value of China's hydrogen industry will reach one trillion yuan. Demand for hydrogen will reach nearly 60 million tonnes, and carbon dioxide emissions will be reduced by 700 million tonnes. Hydrogen is expected to account for over 10 percent in China's end-use energy system. With an annual output of 12 trillion yuan, it is likely to become a new growth pillar of China's economic development.
Experts said that in the future, hydrogen energy will see broader application scenarios and the next 10-20 years will be critical for the development of China's hydrogen industry. (Edited by Yang Yifan with Xinhua Silk Road, yangyifan@xinhua.org)