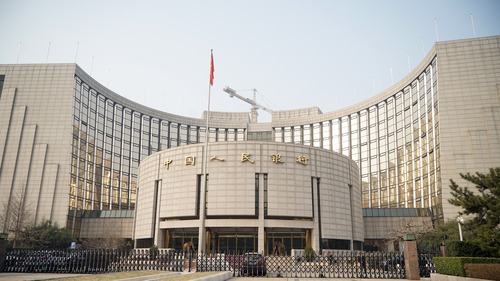 Photo taken on March 13, 2018 shows the headquarters of the People's Bank of China. (Xinhua/Cai Yang)
BEIJING, Sept. 28 (Xinhua) -- China Foreign Exchange Trade System (CFETS) introduced on Monday MarketAxess as the third overseas electronic trading platform to further facilitate global investors to access China's interbank bond market, reported Xinhua-run Xinhua Finance.
CFETS, an important financial infrastructure of China's interbank bond market, supports MarketAxess to allow overseas investors under both China Interbank Bond Market Direct scheme (CIBM Direct) and Bond Connect to send request for quote (RFQ) messages to onshore dealers and trade with onshore dealers directly in CFETS system, via their trading link. MarketAxess also supports international payment mode under Bond Connect channel.
CFETS has been committed to facilitating global investors to invest in the interbank bond market while continuously providing better services through closer collaboration with global trading platforms.
Since 2017, CFETS has built up trading links with three overseas trading platforms including MarketAxess, Tradeweb and Bloomberg under CIBM Direct and Bond Connect channels. It supports overseas investors to access China's interbank bond market and trade directly with onshore dealers in CFETS system through their familiar platforms.
CIBM Direct is a high-efficiency and low-cost route for overseas institutional investors to trade bonds of varied types on China's interbank bond market. Bond Connect is a mutual market access scheme allowing investors from the Chinese mainland and Hong Kong to invest in each other's bond markets.
In future, CFETS vows to further improve the convenience for overseas investors' investment into China interbank bond market and promote the high-quality opening-up of the interbank bond market.
Founded in 1994, CFETS, also known as the National Interbank Funding Center, is a sub-institution directly affiliated to the People's Bank of China, the Chinese central bank. (Edited by Duan Jing with Xinhua Silk Road, duanjing@xinhua.org)