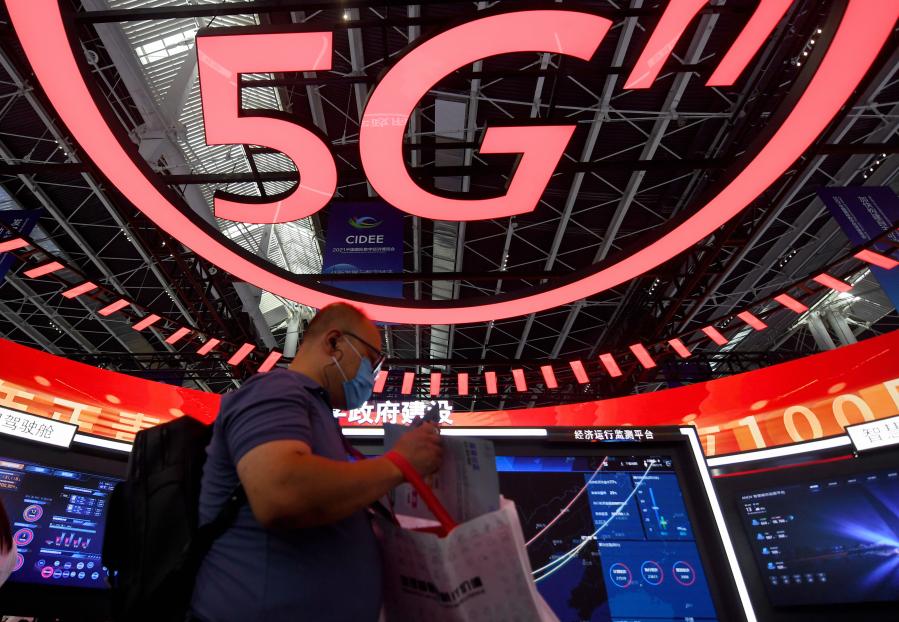 A man walks past the 5G exhibition area at the China International Digital Economy Expo 2021 in Shijiazhuang, north China's Hebei Province, on Sept. 6, 2021.(Xinhua/Wang Xiao)
BEIJING, Sept. 18 (Xinhua) – Beijing will build a world-class 5G industrial cluster area and build itself into a benchmark city of digital economy, according to Beijing Communications Administration at 2021 Beijing Internet Conference on Thursday.
As of the end of last year, the added value of Beijing's digital economy had exceeded 1.44 trillion yuan, which laid a good foundation for Beijing to build itself into a benchmark city of digital economy.
As of the end of July, the revenue of Beijing's internet enterprises above designated scale and related services amounted to 246.77 billion yuan, up 33.3 percent year on year while the profit reached 12.46 billion yuan, surging 8.66 billion yuan year on year.
As of the end of June, it only costs consumers 3.8 yuan per gigabyte for Internet connection, down 30.9 percent compared to a year ago, with mobile Internet users in Beijing consuming 2.37 billion gigabytes of data in the first half of this year.
Last year, Beijing's digital economy grew 10.7 percent year on year, far outpacing the developed countries' average of about 3 percent, said Xu Zhiyuan, an official with the China Academy of Information and Communications Technology.
Beijing had 45,700 5G base stations as of the end of August, with 5G users totaling over 12 million. Every 10,000 people in Beijing enjoy about 20 5G base stations, ranking first in China, showed data released by the Beijing Communications Administration.
It is expected that 63,000 5G base stations will be built in the city by 2025, realizing full coverage of the 5G network in key functional areas, including its downtown core area, sub-center, and central business district.
(Edited by Tian Shenyoujia with Xinhua Silk Road, tianshenyoga0524@163.com)