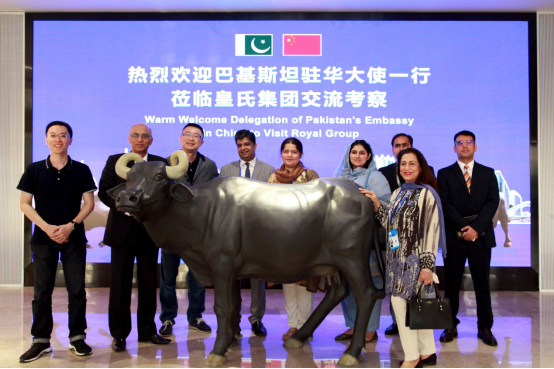 BEIJING, Sept. 17 (Xinhua) --Royal Group, a Chinese buffalo milk manufacturer based in Nanning, south China's Guangxi Zhuang Autonomous Region, has accelerated the implementation of its cooperation project with Pakistan's dairy buffalo breeding industry since 2021, according to company sources.
The information was disclosed when the company officials met a visiting delegation of Pakistan's Embassy to China on Sept. 10 as a side event of the 18th China-ASEAN Expo(CAEXPO).
As the world's second largest milk-producing country, Pakistan has 40 million dairy cows and its local Nili-Ravi buffalo is known as "black gold" with high economic value.
It is learnt that based on its current industrial advantages, Royal Group plans to cooperate with the Chinese Academy of Agricultural Sciences's Guangxi Buffalo Research Institute and Guangxi University, to shorten the variety improvement cycle of Chinese buffalo by introducing high-quality buffalo from Pakistan in a bid to increase the unit milk production of Chinese buffalo.

In order to meet market demand and fundamentally solve the company's problem of short supply on buffalo milk, the company sent a delegation to Pakistan in April this year to conduct in-depth research on the local buffalo industry over further cooperation, said Chen Yiyi, President of Royal Group.
At present, Royal Group has reached cooperation with a local university of veterinary animal science and technology and also a large buffalo genetic company in Pakistan, according to Chen.
The animal husbandry industry is an important part of Pakistan's economy with abundant milk buffalo resources, which is highly compatible with the future development plan of the Royal Group. It is believed that the cooperation between the two sides will have many positive results, said Moin ul Haque, Pakistani Ambassador to China, who led the delegation.
The 18th China-ASEAN Expo was held in Sept. 10-13 at Nanning, capital city of Guangxi. At the invitation of China, Pakistan joined the 18th China-ASEAN Expo as a Special Partner Country.
(Edited by Gao Jingyan with Xinhua Silk Road, gaojingyan@xinhua.org)