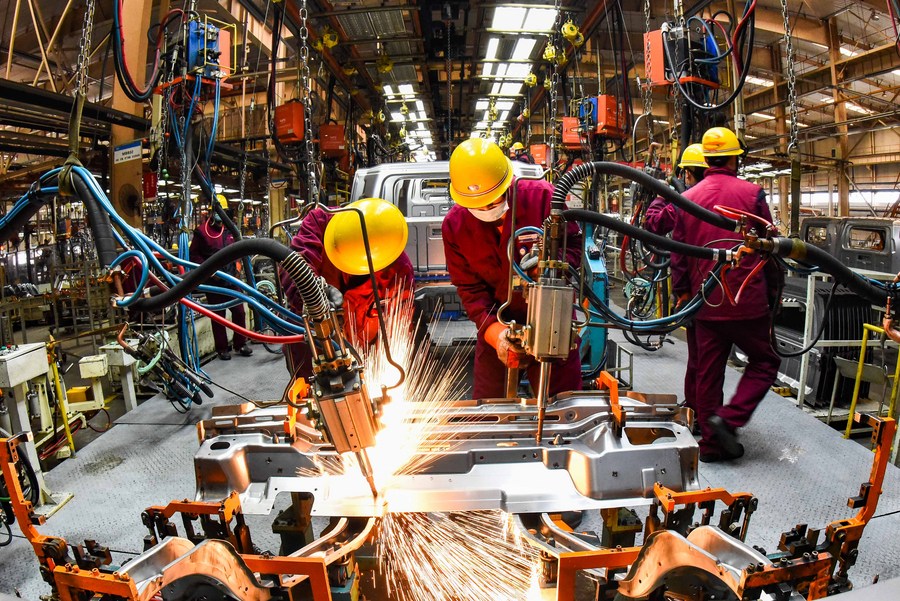 Workers weld components at a workshop of an automobile manufacturing enterprise in Qingzhou City, east China's Shandong Province, Feb. 28, 2021. (Photo by Wang Jilin/Xinhua)
BEIJING, Sept. 17 (Xinhua) -- International auditing firm KPMG has recently released a report, saying that China's manufacturing industry is projected to move faster in intelligent transformation, and the rapid digital development of traditional manufacturing industry will bring a huge amount of data, reported China Securities Journal Friday.
The rapid development of the Internet of Things (IoV), 5G, artificial intelligence, digital twin and other technologies has brought about great progress in computing power and algorithm, and the increasing integration of them will form an intelligent manufacturing technology system with "data plus computing power plus algorithm" as the core, says the report.
During the 14th Five-Year Plan Period (2021-2025), China's manufacturing industry is bound to usher in a new round of transformation and upgrading, driven by new infrastructure represented by 5G, industrial Internet, big data center, etc., noted Wu Guoqiang, vice chairman of KPMG China.
According to Wu, due to such driving force, China's automobile industry has also ushered in a critical period of industrial transformation and upgrading.
From 2021 to 2025, the intelligent manufacturing system of China will further promote each other with the digital process, reshaping the production process of the traditional manufacturing industry and promoting the optimization and upgrading of China's economic system by optimizing research and development design, production and manufacturing, marketing management and other links, said Norbert Meyring, head of industrial manufacturing, KPMG China.
In terms of new energy vehicles (NEVs), Xu Kanling, head of automobile industry in east and west China, KPMG China, said that with strong policy support, China's NEV industry has accumulated considerable first-mover advantages and scale advantages.
The report predicts that by 2025, the sales of PA (partially autonomous driving) and CA (conditional autonomous driving) intelligent connected vehicles in China will account for more than 50 percent of the total sales of automobiles in that year, and the assembly rate of C-V2X (Cellular Vehicle-to-Everything) terminals in new cars will reach 50 percent.
Besides, by 2025, highly autonomous vehicles will first be commercialized in specific scenarios and restricted areas, with the operation range increasingly expanded, and by 2035, all kinds of internet-connected highly autonomous vehicles will be widely available in China.
(Edited by Gu Shanshan with Xinhua Silk Road, gushanshan.1987@163.com)