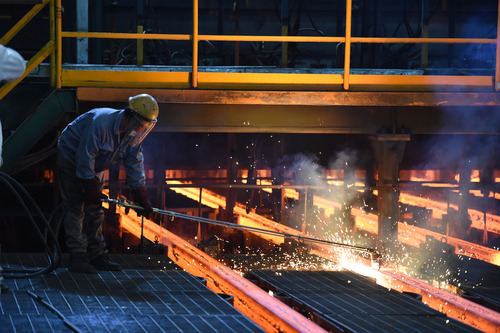 A worker is busy working at the production line of a special steel production enterprise in Haibowan District of Wuhai City, north China's Inner Mongolia Autonomous Region, April 22, 2020.
BEIJING, Sept. 16 (Xinhua) -- As a major resource-based city in north China's Inner Mongolia Autonomous Region, Wuhai City has been working on improving its energy structure through hydrogen energy development and application.
The city has worked out its full-chain model based on existing energy advantages and incentive policies, gaining more green impetus for transformation towards high-quality development in a larger context of carbon peak and neutrality goals.
The Full-Chain Development
Located in western Inner Mongolia, Wuhai's green energy story partly began from its rich coal resources. The solid foundation for coal coking and chlor-alkali chemical accumulated over years have led to 30 hydrogen-related enterprises which generate industrial by-product hydrogen.
Among those, coke oven gas output of 12 coal coking enterprises above designated size has reached 4.4 billion cubic meters, with by-product hydrogen output standing at 2.4 billion cubic meters. Also, the lower cost of industrial by-product hydrogen (13-15 yuan per kilogram) also gives Wuhai an edge in price in the marketplace. Combiningly, such "raw-material advantage" provides the city the stepping stone, upon which all possibilities around hydrogen production, storage, transportation and application have been unfolding.
In front of us are 50 brand-new buses with eye-catching logos of "hydrogen fuel cell bus" park at one bus station in Haibowan district of Wuhai, with a container-like facility installed nearby. "It is a mobile hydrogen refueling station for hydrogen fuel cell buses. The whole process can be done inside the station", introduced Zhang Shibu, who is in charge of the bus procurement.
These buses are equipped with a hydrogen storage system consisting of a fuel cell engine, a lithium-titanate battery system, and eight-bottle hydrogen-storage sets, Zhang introduced, noting that the buses can travel a maximum of 400 km on a single hydrogen refill.
At present, two hydrogen refueling stations have been put into use in Wuhai to provide energy for such devices as hydrogen fuel cell buses. The daily refueling capacity of one station in Hainan district alone can reach one tonne, with the hydrogen all produced by local energy enterprises.
"As a hydrogen supplier, we are actively expanding the market in coastal areas in addition to meeting local demands for hydrogen", said Wang Hongfei, deputy general manager of Wuhai Chemical Industry Co., Ltd. The company is mulling to invest in the "50,000-tonne hydrogen production project" for the supply to aerospace, medical and other industries.
In addition to upstream development, Wuhai is actively promoting downstream industries, such as the manufacturing of hydrogen equipment for hydrogen utilization.
The plant of Wuhai Haiyitong Yinlong New Energy Automobile Co., Ltd. is still under construction which is expected to produce 2,000 hydrogen-fueled vehicles annually when put into use, accoring to Chen Haonian, deputy head of the company's operation department.
The manufacturing and trial operation of hydrogen-fueled buses in Wuhai is just a small fraction of its flourishing hydrogen industry. The use of hydrogen in the smelting industry is also underway. At the beginning of May this year, a high-purity pig iron production line using a hydrogen-based smelting reduction method with an investment of 1.09 billion yuan was put into trial operation in Haibowan Industrial Park. It successfully produced high-purity cast iron water and effectively expanded the application of hydrogen in Wuhai.
Wuhai is increasingly displaying a good example of its hydrogen industry, which will effectively drive the high-quality development of the hydrogen economy in the western regions, experts say.
The Green Wave of Transformation
Established in 1976, Wuhai is a young resource-based city in the Yellow River basin. From coal mining and trade at the beginning to the industrialization of coal chemical industry, and the green transformation through hydrogen industry, its three phases of transformation stands as a miniature for the green transformation of China's energy industry and other resource-based cities.
China's hydrogen industry is developing rapidly with industrial chain taking shape, according to Zheng Shengli, deputy director of the Wuhai municipal development and reform commission. Currently there are five major industrial clusters in Beijing-Tianjin-Hebei region, eastern China, southern China, central China, and southwestern China areas, covering the manufacturing of hydrogen equipment, storage, transportation and application of hydrogen among other fields, Zheng said, noting that as an important industrial city, Wuhai is currently increasing its efforts in mapping out industrial layout, hydrogen refueling station construction, providing financial subsidies to create new growth engines.
For Inner Mongolia, a number of policies and measures have been rolled out in recent years to support the development of the hydrogen energy industry. Among the first batch of major cooperation projects in Inner Mongolia Autonomous Region in 2020, there are 5 hydrogen projects with a total investment of nearly 6.5 billion yuan.
"As a traditional industrial city, Wuhai never stops pondering the transformation of the whole city and its industries and more so in the context of achieving emission peak and carbon neutrality, according to Tang yi, secretary of the CPC municipal committee of Wuhai, noting the city will upgrade its industries through the development of new materials and new energy, giving full play to the advantages of by-product hydrogen, promote the development of the hydrogen energy, and drive the green transformation of its industries.
Wuhai has also issued a number of supporting measures for such projects as liquid hydrogen production and hydrogen cells, and brought in automotive manufacturing industry such as hydrogen-fueled buses, according to Zheng Shengli.
Wuhai is also actively establishing cooperation with relevant scientific institutions and hydrogen enterprises, attracting demonstration projects such as liquid hydrogen production and promote the steady progress of industrial and technological demonstration, Zheng noted.
At present, in addition to 50 hydrogen-fueled buses and 10 commuter buses for urban transportation and the commute to industrial parks, Wuhai plans to purchase 10 garbage trucks, 20 mail trucks, and 50 taxis all fueled by hydrogen to encourage the use of hydrogen-fueled vehicles in the transportation sector. It will demonstrate the hydrogen application in transportation and reduce vehicle emissions and improve air quality.
But the green wave of transformation does not stop just that. Wuhai also makes itself stand out with integrating wind and solar for hydrogen production. Wuhai and neighboring areas have rich wind and solar resources thus the city adopts comprehensive planning from the very beginning by fully considering source-grid-load-storage integration and wind-solar-hydrogen storage systems instead of simply generating and selling electricity, according to Tang Yi, noting that the city, along with energy transformation and industrial upgrading will develop its own uniqueness such as a complementary and three-dimensional (wind-solar-agriculture) hydrogen supply system with "wind power in the air, photovoltaic power in the middle and grapes on the ground".
(Edited by Niu Huizhe with Xinhua Silk Road, niuhuizhe@xinhua.org)