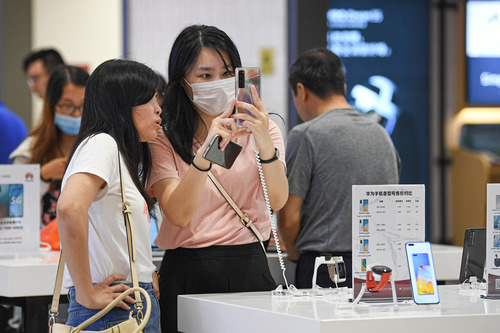 Customers select products at a duty-free shop in Haikou, south China's Hainan Province, Oct. 4, 2020. China's resort island province of Hainan raked in 1.04 billion yuan (about 155 million U.S. dollars) in duty-free sales during the National Day holiday, an increase of 148.7 percent year on year, according to customs authorities. (Xinhua/Pu Xiaoxu)
BEIJING, Sept. 15 (Xinhua) -- China A-share market-listed consumption companies are expected to hail a round of holiday-driven rally given the upcoming traditional gold consumption weeks thanks to the Mid-Autumn Festival in next week and the National Day holiday in early October, reported Xinhua-run Xinhua Finance Wednesday.
In the first two weeks of September, China A-share market-listed consumption companies have embraced a bout of stock price rally, with scenic spot, hotel and catering related sub-sectors all reaping gains as compared to their long-lasting lukewarm performances earlier this year.
Since the beginning of 2021, consumption stocks on China's A-share market have generally retreated notably, making those that suffered the deepest declines attractive again in terms of valuation amid the present ample market liquidity.
For instance, Foshan Haitian Flavouring and Food Co., Ltd. (603288.SH) saw its stock price down on and on after hitting an all time high in January. Compared with the peak price in this year, its current stock prices have dropped by nearly 50 percent.
Currently, investors' confidence in consumption stocks is to some extent different from the past and under such circumstances, it is likely for the performance of consumption stocks to recover in the fourth quarter of this year, said Liu Ran, consumption industry analyst with Centaline Securities.
By far this year, China's A-share market has completed a round of style change, under which growth drivers shifted from sectors closely linked with the country's economic growth to growth type companies.
For core consumption stocks, the downward correction of their prices has been relatively deep and for such consumption stocks as are supported by solid business fundamentals, investors shall pay close attention to them as their price bottoms for long-term investors are taking shape at present, noted Liu.
When hunting for bargains in next phase, investors are still advised to focus on the investment potential of the consumption-related subsectors and the growth potential of related companies, Liu added.
As a matter of fact, some large consumption companies' stock prices have been bottoming recently and their valuations also stay in a reasonable band.
As the Mid-Autumn Festival and National Day holiday draw near, Ouyang Yujian, retail analyst with Chuancai Securities expected stocks of high-end Baijiu producers to post relatively gratifying performances given their resilient wholesale prices and robust dynamic demand.
Later during the Mid-Autumn Festival and National Day holiday, travelling demand previously hammered by the recurrence of COVID-19 epidemic during the summer vacation is anticipated to recover somewhat, which may shore up the hotel and tourism sectors, predicted Liu Tiantian, retail analyst with Dongxing Securities.
The report citing a research report said that domestic tourists boast great willingness to travel during the Mid-Autumn Festival and the number of tourists is expected to exceed 80 million nationwide. (Edited by Duan Jing with Xinhua Silk Road, duanjing@xinhua.org)