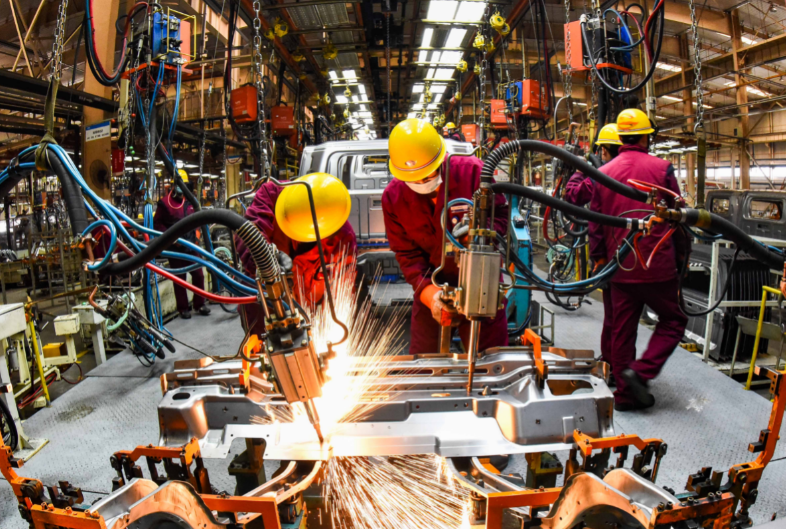 Workers weld components at a workshop of an automobile manufacturing enterprise in Qingzhou City, east China's Shandong Province, Feb. 28, 2021. (Photo by Wang Jilin/Xinhua)
BEIJING, Sept. 14 (Xinhua) -- Investment in China's manufacturing industry is expected to achieve a year-on-year increase of around 12 percent in 2021 on the mounting favorable factors for the manufacturing investment, the Xinhua-run Economic Information Daily reported on Tuesday.
Industry insiders pointed out that against the background of China's pledges to peak carbon dioxide emissions by 2030 and achieve carbon neutrality by 2060, demands for green investment and green technology transformation investment will increase, and investment in high-tech manufacturing will continue to grow strongly, which will further improve and upgrade the investment structure of the manufacturing industry.
-- Improving investment structure
Data recently released by multiple local authorities also showed that investment in the manufacturing industry has grown steadily, and particularly investment in high-tech manufacturing has further increased.
For example, from January to July, Guizhou Province in southwest China saw investment in the manufacturing industry increase by 13.8 percent year on year. In particular, investment in the province's high-tech manufacturing industry increased by 41.2 percent year on year, 7.2 percentage points higher than that in the first half of the year.
In the first seven months, central China's Hubei Province reported a year-on-year jump of 73 percent in investment in high-tech manufacturing industry, representing an increase of 6 percentage points from the same period in 2019.
The improving investment structure has also accelerated upgrading of the industrial structure.
The proportion of high-tech manufacturing in the added value of industries above designated size increased from 9.4 percent in 2012 to 15.1 percent in 2020, according to Xiao Yaqing, Minister of Industry and Information Technology, at a press conference on Monday.
-- Reasons behind rising manufacturing investment
According to an official of the National Development and Reform Commission (NDRC), China's top economic planner, the profits of manufacturing enterprises are growing steadily, and the enterprises' expectations are generally stable, which is conducive to the continuous recovery of manufacturing investment.
Data showed that in the first seven months of the year, the country's manufacturing industry achieved a year-on-year increase of 56.4 percent in profits.
Meanwhile, the authorities' pack of favorable policies including tax cuts, fee reductions and financial support have further unleashed the vitality of the enterprise investment.
According to data from the State Taxation Administration, in the first half of this year, a total of 743.55 billion yuan in taxes and fees for the manufacturing industry was reduced.
In terms of finance, the People's Bank of China (PBOC), China's central bank, made it clear that the credit resources should be channeled to the real economy, providing solid support to the manufacturing and infrastructure industries.
Qiao Baohua, an official of the China Center for Information Industry Development (CCID), said that these policies could help market players recover and increase their vitality, and further encourage manufacturing enterprises to increase their investment. (Edited by Hu Pingchao with Xinhua Silk Road, hupingchao@xinhua.org)