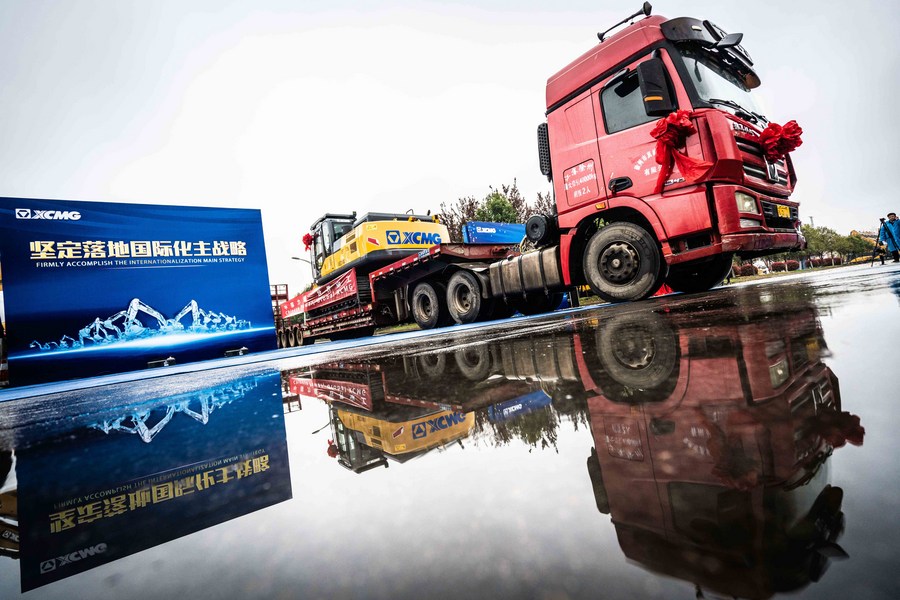 Photo taken on April 2, 2021 shows a truck, loaded with an excavator to be exported, departing the Xuzhou Construction Machinery Group (XCMG) in Xuzhou City, east China's Jiangsu Province. (Xuzhou Construction Machinery Group/Handout via Xinhua)
BEIJING, Sept. 11 (Xinhua) -- China's major excavator manufacturers saw their sales expand steadily in the first eight months of the year, industry data showed.
The country's 25 leading excavator makers sold a total of 259,253 units in the January-August period, rising 23.2 percent year on year, according to the China Construction Machinery Association.
In particular, excavator exports surged 101.8 percent from a year earlier to 40,875 units from January to August.
In August alone, excavator sales stood at 18,075 units, dropping by 13.7 percent year on year. Specifically, domestic sales of the equipment fell 31.7 percent while exports doubled for the month.
Sales of digging machines are a significant indicator of the vitality of an economy as demand is usually backed by growth in mining and infrastructure development. Enditem