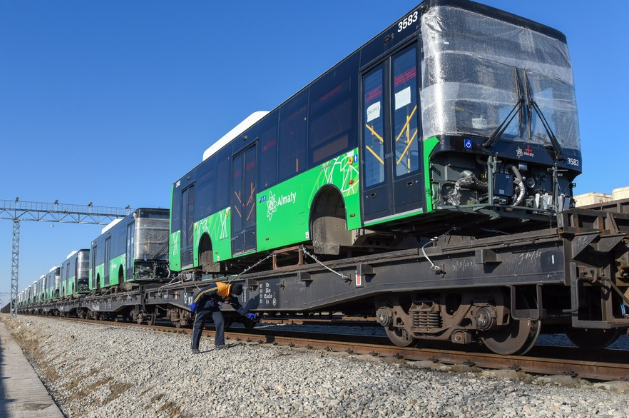 A staff member checks a freight train loaded with buses to be exported at the Horgos Port in northwest China's Xinjiang Uygur Autonomous Region, Feb. 6, 2021. (Xinhua/Ding Lei)
BEIJING, Sept. 10 (Xinhua) -- Horgos Port, a major rail port in northwest China's Xinjiang Uygur Autonomous Region, has handled more than 16,000 China-Europe freight train trips as of Thursday, according to the port statistics available on Friday.
It is reported that the port handled the first such trip on March 19, 2016.
In order to facilitate the efficient operation of China-Europe trains, Horgos Port has realized an integrated customs clearance, and launched the paperless declaration process.
Thanks to the robust trips made by the China-Europe freight trains, Xinjiang enjoyed outstanding performances in foreign trade.
Xinjiang recorded 83.67 billion yuan (about 12.92 billion U.S. dollars) in foreign trade in the first seven months of this year, up 14 percent year on year, according to the local customs.
From January to July, Xinjiang's export volume witnessed robust year-on-year growth of 33.2 percent, reaching 64.87 billion yuan, the customs said.
In the period, the region's trade volumes with Kazakhstan, Kyrgyzstan, Tajikistan and the countries along the Belt and Road respectively increased by 13.2 percent, 98.2 percent, 27.8 percent and 19.6 percent.
(Edited by Hu Pingchao with Xinhua Silk Road, hupingchao@xinhua.org)