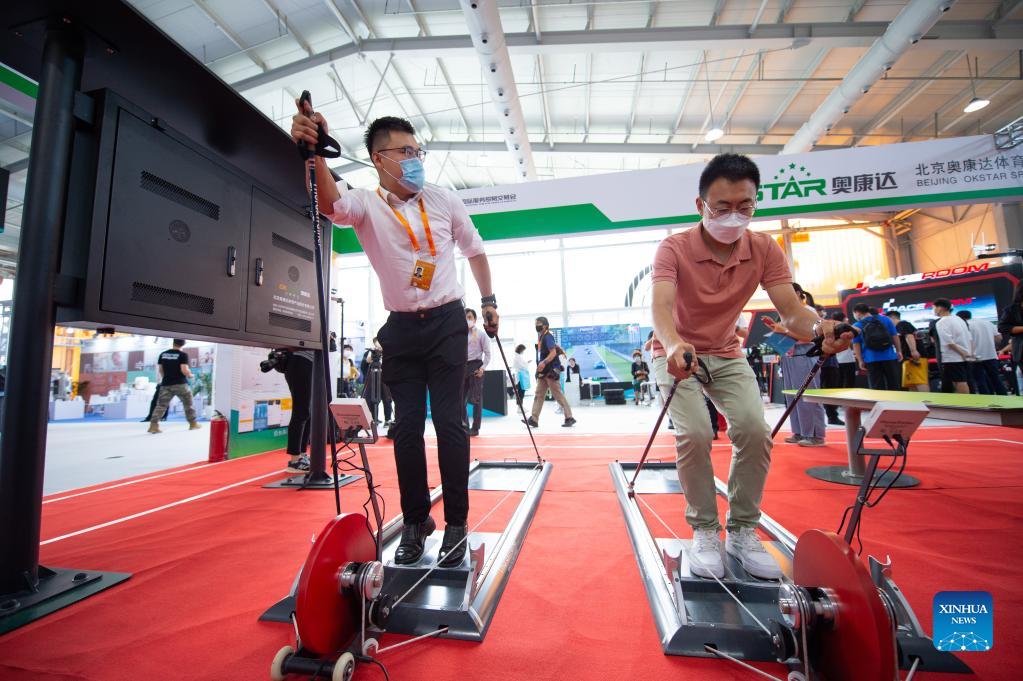 A visitor (R) tries a ski simulator during the 2021 China International Fair for Trade in Services (CIFTIS) in Beijing, capital of China, Sept. 3, 2021. (Xinhua/Chen Zhonghao)
BEIJING, Sept. 8 (Xinhua) -- The sports services exhibitions of the 2021 China International Fair for Trade in Services (CIFTIS) concluded Tuesday, with 14 projects contracted and the contract value registering a record high of 11.146 billion yuan.
During the fair, exhibitions, forums, results release, and side meetings and activities related to sports services were held, featuring rich contents, complete supply and demand service mechanism, outstanding sports cultural elements, and winter sports elements.
A total of 146 online exhibitors and 155 offline exhibitors participated in the sports services exhibitions. Among offline exhibitors, 86 are foreign-funded enterprises and institutions, recording an internationalization rate of 55 percent, and 74 are Fortune Global 500 companies and leading enterprises in the industry, accounting for 48 percent of the total.
Two quality sports services projects promotion conferences were held and 14 related results were released, including reports on the development of China's sports services trade, China's sports tourism, the development of China's ice and snow industry, China's 2021 ice and snow tourism index, etc..
Activities like welcome dinner, interactive interviews and live performance were also held, offering face-to-face interaction opportunities between sports celebrities, folk sports experts, and visitors.
Although the offline sports services exhibitions have drawn the curtain, exhibitors can still release information and conduct transactions through the online CIFTIS platform.
(Edited by Gu Shanshan with Xinhua Silk Road, gushanshan.1987@163.com)