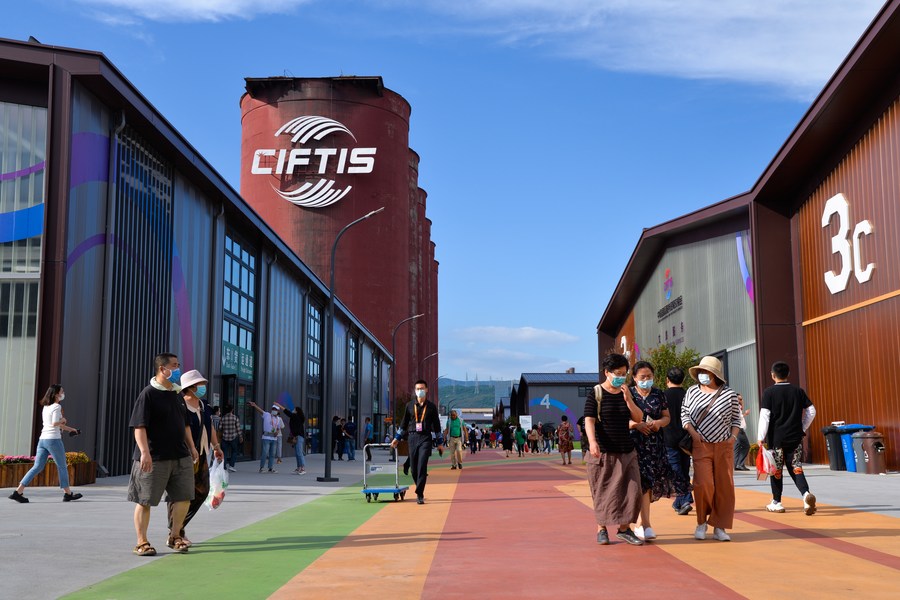 People visit the 2021 China International Fair for Trade in Services (CIFTIS) at Shougang Park in Beijing, capital of China, Sept. 6, 2021. (Xinhua/Xu Qin)
BEIJING, Sept. 7 (Xinhua) -- Advanced concepts and innovative technologies related to carbon emission reduction shines at the 2021 China International Fair for Trade in Services (CIFTIS) kicked off on September 2.
As of September 6, a total of 12 thematic forums focusing on peaking carbon emissions and carbon neutrality has been held, offering opportunities for participants to have in-depth discussions on related topics like technological innovation and sustainable development.
The concepts of green development and environmental protection has also been shown in the building of the exhibition stands which used low-carbon and reusable new materials.
At the "carbon neutrality" green technology exhibition area in Shougang Park, a venue for the fair, cutting-edge technologies like energy conservation and carbon reduction, clean energy application, energy storage, and carbon capture and utilization are displayed.
According to a staff from Beiqi Foton Motor Co., Ltd., a hydrogen fuel bus displayed by the company can realize low temperature start at minus 20 degrees Celsius, low temperature storage at minus 46 degrees Celsius and automatic protection of shutdown. The kind of buses are the designated support vehicles for the 2022 Olympic Winter Games.
Low carbon technologies serving the 2022 Olympic Winter Games have also been shown at the sports exhibition area, including the sand table model for the National Speed Skating Oval, also known as the "Ice Belt", which will host speed skating competitions during the Beijing 2022 Olympic and Paralympic Winter Games.
The Oval is the world's first speed skating venue that adopts the carbon dioxide transcritical direct cooling technology, the world's most advanced and environmentally-friendly ice making technology with almost zero carbon emissions.
Carbon emission reduction technologies have also been shown at the exhibition areas for telecommunications, computer and information services, cultural and travel services, and engineering consulting and construction services in Shougang Park.
Global consulting firm Ernst & Young (EY) has also released a number of research products related to low-carbon topics at the fair.
(Edited by Gu Shanshan with Xinhua Silk Road, gushanshan.1987@163.com)