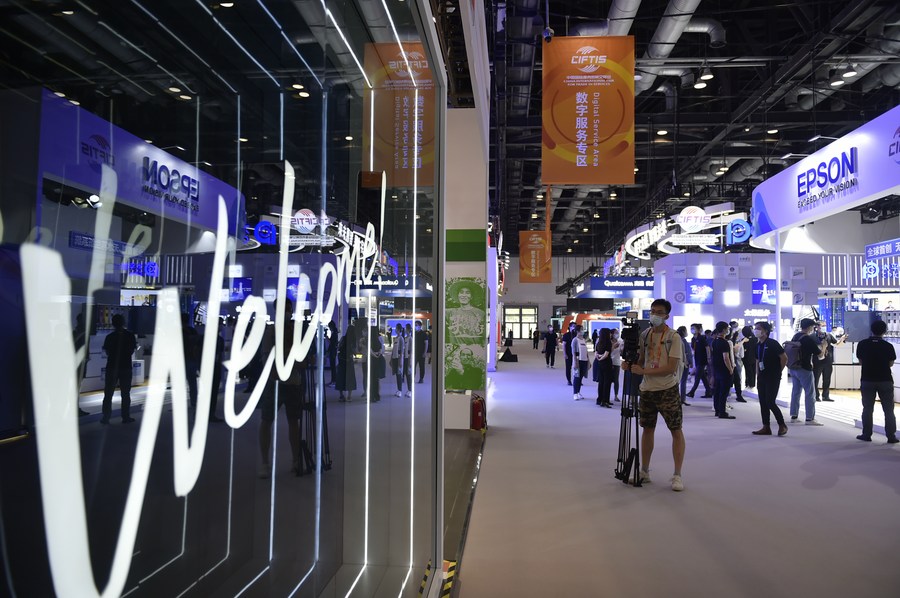 Journalists visit a venue of the China International Fair for Trade in Services (CIFTIS) at the China National Convention Center in Beijing, capital of China, Aug. 31, 2021. (Xinhua/Lu Peng)
BEIJING, Sept. 6 (Xinhua) -- China's digital trade has boasted huge potential in innovative development, and become a new driver for the country's trade in services, reported Shanghai Securities News Monday.
At the ongoing 2021 China International Fair for Trade in Services (CIFTIS), there are exhibitors engaging in digital services, digital technology and digital content like Huawei, Alibaba, JD.com and Meituan, as well as new digital infrastructure construction in traditional industries like State Grid and COSCO Shipping.
At the exhibition areas for provincial-level regions, the new ideas for digital transformation of trade in services are also displayed. For example, east China's Zhejiang Province portrays a roadmap for the construction of a global digital trade center focusing on cross-border e-commerce, digital technology, digital communication and other sectors.
Many enterprises from the Beijing Zhongguancun Software Park have also participated in the exhibitions to show their innovative achievements in unmanned driving, intelligent transport, digital architecture, new audio-visual services and other digital services.
"Digital trade, driven by digital technology, has become a new trend and also a new growth point in China's services trade," said Li Jun, head of the Institute of International Trade in Services of the Chinese Academy of International Trade and Economic Cooperation (CAITEC).
According to a report on the development of China's services trade released recently by the Ministry of Commerce (MOC), during the 14th Five-Year Plan period, the country's digital trade is projected to expand further, and the imports and exports of the services trade that can be digitalized may exceed 400 billion U.S. dollars, accounting for about 50 percent of the total services trade.
MOC will actively promote the construction of digital trade demonstration areas, and join hands with related departments to unveil policies and measures supporting the national digital services export bases, creating favorable conditions for the development of digital trade, said Vice Minister of Commerce Wang Bingnan.
Currently, China has introduced a series of regulations and policy documents, initially forming a legal and policy framework to support and promote the development of digital trade.
The rules and systems for digital trade will be gradually improved during the 14th Five-Year Plan period, noted Wang Dongtang, deputy head of the Department of Trade in Services and Commercial Services of MOC.
According to Han Xia, chief engineer with the Ministry of Industry and Information Technology (MIIT), MIIT is vigorously promoting the high-quality development of China's digital economy and digital trade, including strengthening the development of key and core technologies to consolidate digital infrastructure, and guiding enterprises in digital transformation to integrate into the global digital governance system.
(Edited by Gu Shanshan with Xinhua Silk Road, gushanshan.1987@163.com)