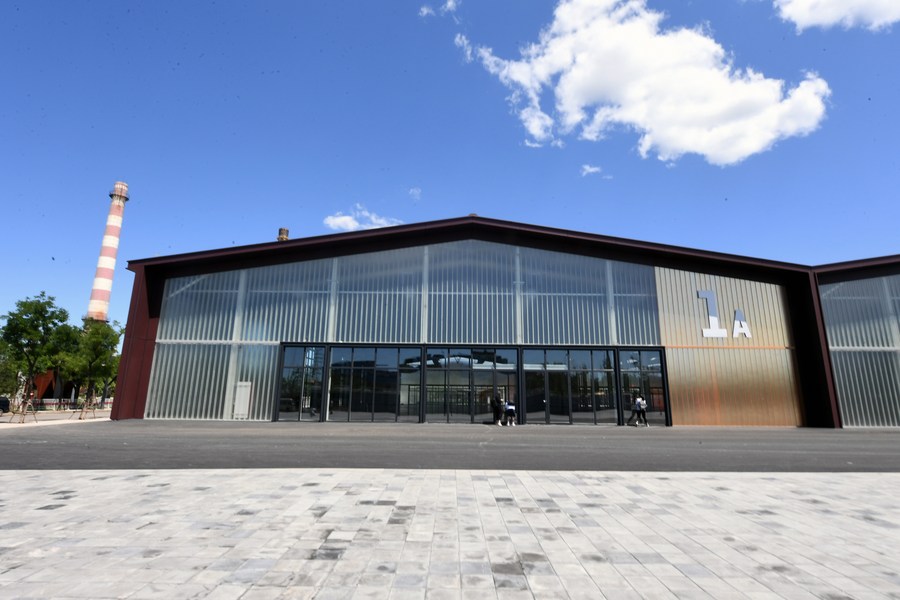 Photo taken on Aug. 1, 2021 shows a venue of the China International Fair for Trade in Services (CIFTIS) at Shougang Park in Shijingshan District in Beijing, capital of China. (Xinhua/Ren Chao)
BEIJING, Sept. 1 (Xinhua) -- The China International Fair for Trade in Services (CIFTIS) themed on "Towards Digital Future and Service Driven Development" will kick off on September 2, and 186 important guests from home and abroad will participate in the event online or offline. More than 70 well-known domestic and foreign enterprises will release new technologies, achievements and services during the event.
"Against the backdrop of the grim and complicated global epidemic situation and the fluctuating domestic epidemic situation, it is of special significance to hold the 2021 CIFTIS as scheduled, signifying China's confidence and determination to push forward high-level opening-up and its responsibility as a major country in supporting global cooperation against COVID-19 and promoting the recovery of world economy and trade," said Vice Minister of Commerce Wang Bingnan.
-- Exhibition scope and scale further expanded
This year's CIFTIS boasts an exhibition area of about 130,000 square meters, 20,000 square meters more than that of last year. Apart from the traditional venue of the China National Convention Center, some CIFTIS events will take place in Shougang Park, a new city landmark, once a vacated industrial site in Shijingshan District of Chinese capital city Beijing.
Over 10,000 enterprises from 153 countries and regions will take part in the event online and offline, with offline exhibitors increasing by six percent compared with last year. There are 4,863 booths on the online digital platform, and more than 20,000 pieces of information about exhibits have been uploaded.
Besides, five summit forums, 193 forum meetings and promotion and negotiation activities, and eight side meetings will he held during the event.
In terms of exhibition topics, in addition to education services, telecommunications, computer and information services, financial services, cultural and tourism services and sports services set at last year's CIFTIS, this year's CIFTIS boasts three new topics, namely supply chain and business services, health services and engineering consulting and construction services.
The international level of the fair has also been further improved. According to Beijing's deputy mayor Yang Jinbai, the number of countries participating in the exhibition in this fair is five more than last fair, with the internationalization rate and the share of the Fortune Global 500 companies both exceeding the level of last fair.
A special exhibition has also been set up in this year's fair to showcase the achievements of China's trade in services during the 13th Five-Year Plan period and look forward to the broad prospects in the 14th Five-Year Plan period.
Following the increasingly-apparent digital features of trade in services, this year's fair also features a special section for digital services, and 15 related forum meetings will be held during the event.
-- Newly-added exhibition sections full of highlights
In this year's event, a new section for supply chain and business services companies will be set up. According to Cai Xiaojun, deputy director of the Beijing Municipal Commerce Bureau, the section has attracted 180-odd industry companies and institutions to participate in the exhibition online or offline, and 56 percent of the exhibitors are Fortune Global 500 companies and leading enterprises in the industry.
By leveraging digital cloud platform, mobile internet and other means, and new technologies like 5G live-streaming and 3D virtual booths, the section will provide exhibitors and visitors with rich online services relying on the main website and APP platform of CIFTIS.
Within the section, there will be an on-site negotiation area, an exhibition area focusing on the building of Beijing into an international consumption center, and four exhibition areas focusing on life service supply chain, production and manufacturing supply chain, business services and integrated supply chain. Meanwhile, the 2021 Beijing consumption season and international fashion festival will kick off on September 3 at Shougang Park.
A health services section will also be set up in this year's fair for the first time, involving six themes of epidemic prevention and control, medical services, scientific and technological innovation, traditional medicine, elderly health and international medical care, and fields like innovative drugs, high-end medical equipment, commercial medical insurance, etc.
The exhibitions in this section will be held at Shougang Park from September 3 to 7. Many medical institutions, renowned pharmaceutical and medical equipment enterprises, and insurance and pension institutions have signed up for the exhibition. More than 30 percent of the exhibitors are Fortune Global 500 companies, and the internationalization rate of the exhibition has reached 22 percent.
At this section, 14 forum meetings will be held with the combination of online and offline means, delivering China's voice in the health sector through live broadcasting, live recording, teleconferencing, online communication, online display and negotiations and in multiple languages.
The section will also set up multiple functional areas for interaction, popularization of science, contract signing and negotiations, forging a platform for global communication, exhibition and cooperation.
The development outcomes of China's construction industry will be shown at a separate section for the first time at this year's fair. The section covers an area of 4,800 square meters, and a comprehensive exhibition area, an intelligent equipment experience area and an enterprise exhibition area will be set up within it.
Exhibitions in the comprehensive exhibition area will involve whole-process engineering consultation, engineering construction innovation technology, and engineering construction information technology under the Belt and Road Initiative (BRI), aiming to show the world the international leading engineering consulting services and management modes, construction technology and equipment, intelligent equipment, intelligent integrated systems, high-performance green building materials, and other outstanding achievements and cases.
The intelligent equipment experience area will present the development process and achievements of scientific and technological innovation in engineering consulting and construction services in a concrete and all-round way, by providing visitors with open and interactive experience of advanced construction equipment, intelligent engineering equipment, smart home and smart park, etc.
The enterprise exhibition area will make full use of the digital technology to facilitate online and offline communications and negotiations among enterprises, and provide them with a platform to show their innovative development and engineering construction service capabilities, serving as a window for the world to know more about Chinese construction and Chinese quality, with the aim to forge the brand of "Built by China".
(Edited by Gu Shanshan with Xinhua Silk Road, gushanshan.1987@163.com)