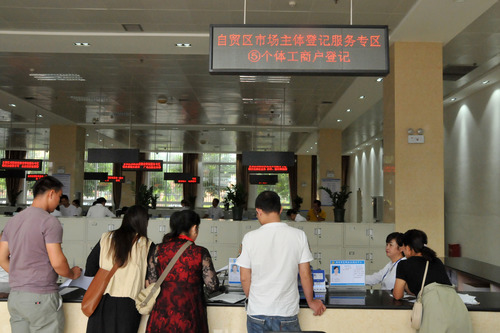 People visit a government service center of the China (Yunnan) Pilot Free Trade Zone (FTZ) Dehong Area in Dehong, southwest China's Yunnan Province, Aug. 30, 2019. (Xinhua/Yao Bing)
BEIJING, Aug. 26 (Xinhua) -- The Honghe Area of southwest China's Yunnan Pilot Free Trade Zone (FTZ) has established cooperation with 11 Vietnamese banks in cross-border settlement, aiming to facilitate financial services between the two countries, according to local authorities.
While signing cooperation agreements with the 11 banking institutions in Vietnam, the Honghe Area also formed a sharing mechanism for bilateral financial information to promote cross-border financial cooperation in Yunnan FTZ.
The two sides also opened interbank settlement accounts to establish a cross-border settlement mechanism in non-major currencies. To be specific, Chinese banks shall open Vietnamese dong (VND) interbank deposit accounts in Vietnamese cooperative banks, and Vietnamese banks will similarly open RMB interbank deposit accounts in Chinese banks.
The two sides also carried out cooperation in cross-border RMB cash transfer, and cross-border financial risk prevention and resolution, to further facilitate the use of non-major currencies from home and abroad, and promote the RMB's internationalization.
(Edited by Jiang Feifan with Xinhua Silk Road, 346129473@qq.com)