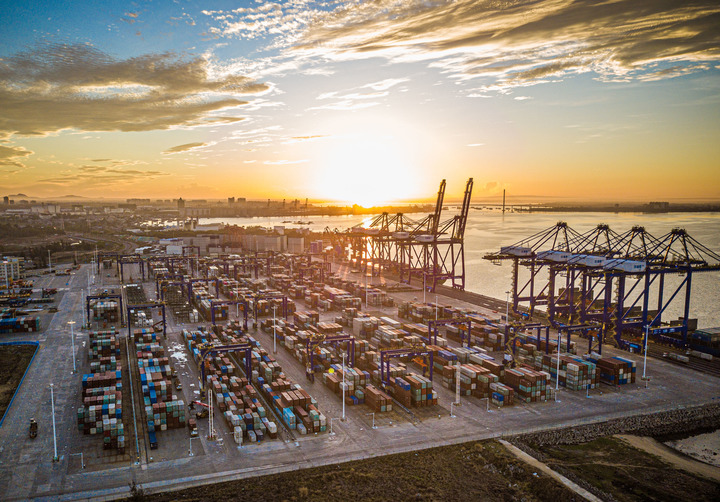 Aerial photo taken on May 26, 2021 shows the Yangpu international container port at Yangpueconomic development zone in south China's Hainan Province. (Xinhua/Pu Xiaoxu)
BEIJING, Aug. 25 (Xinhua) – China's southernmost Hainan province witnessed stable growth in fixed-asset investment in the first seven months, featured with optimized investment structure, reinforced support to newly-commenced projects, accelerated pace of infrastructure construction and faster growth of investment into the island's western region, reported Hainan Daily Sunday.
According to official data, Hainan's fixed-asset investment increased 18.9 percent year on year in the January-July period, of which a 9 percent of growth was registered in July alone this year. The non-real estate sector investment, which achieved a 21.2 percent surge in the first seven months, contributing 68.9 percent to the province's investment growth in the period, which means a considerable optimized investment structure against former over-investment on real-estate sector.
Thanks to reinforced support to the newly-commenced major projects, the investment in new projects launched this year surged by 32.4 percent compared with the same period last year, contributing 28.9 pecent of the province's investment growth.
Infrastructure investment has been geared up as well, as it expanded 8.3 percent during the period, accounting for 24.7 percent of the province's total. In breakdown, the investment on the internet and related service sectors hiking 238.5 percent in the first seven months from the same period last year.
The Yangpu Economic Development Zone, which is located in the western part of Hainan, witnessed a surge of 352.6 percent in investment during the period, continuing to rank the first in the province, and bringing the western region's year-on-year growth of completed investment to 34.7 percent in the first seven months of this year.
(Edited by Jiang Feifan with Xinhua Silk Road, 346129473@qq.com)