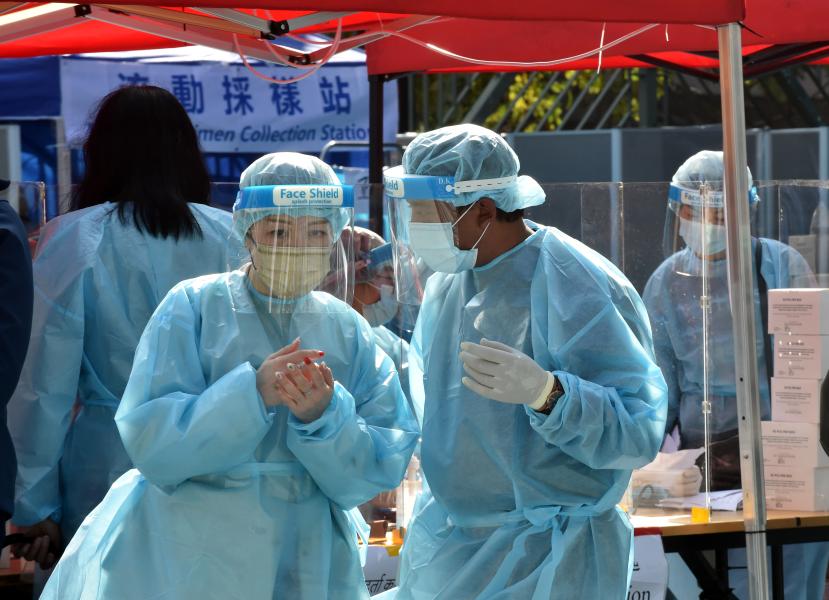 Medical workers are on duty at a COVID-19 nucleic acid testing station in Yuen Long, Hong Kong, south China, Jan. 23, 2021. (Xinhua/Lo Ping Fai)
BEIJING, Aug. 25 (Xinhua) -- Shanghai Fosun Pharmaceutical (Group) Co., Ltd. (Fosun Pharma, 600196.SH, 02196.HK), China's leading innovation-driven international healthcare group, reported 2.482 billion yuan of net profit in the first half of 2021, representing a year-on-year growth of 44.77 percent.
Its operating revenue reached 16.952 billion yuan, increasing by 20.85 percent year on year, with revenue in regions outside Chinese mainland and other countries accounting for 30.66 percent of the total, according to the company's interim report available on Monday.
Research and development investment rose by 29.73 percent year on year to 1.562 billion yuan, the interim results show.
In the first half, the company also made progress in cooperation with BioNTech SE, a German-based mRNA vaccine maker. Fosun Pharma supplied some 4.4 million doses of BNT162b2, a mRNA Covid-19 vaccine, to China's two SARs, Hong Kong and Macao, in the first half of 2021. In July, buyers in Taiwan, a province of China, purchased some 15 million doses of BNT162b2 to help the local government's fight against COVID-19 outbreak.
(Edited by Tian Shenyoujia with Xinhua Silk Road, tianshenyoga0524@163.com)