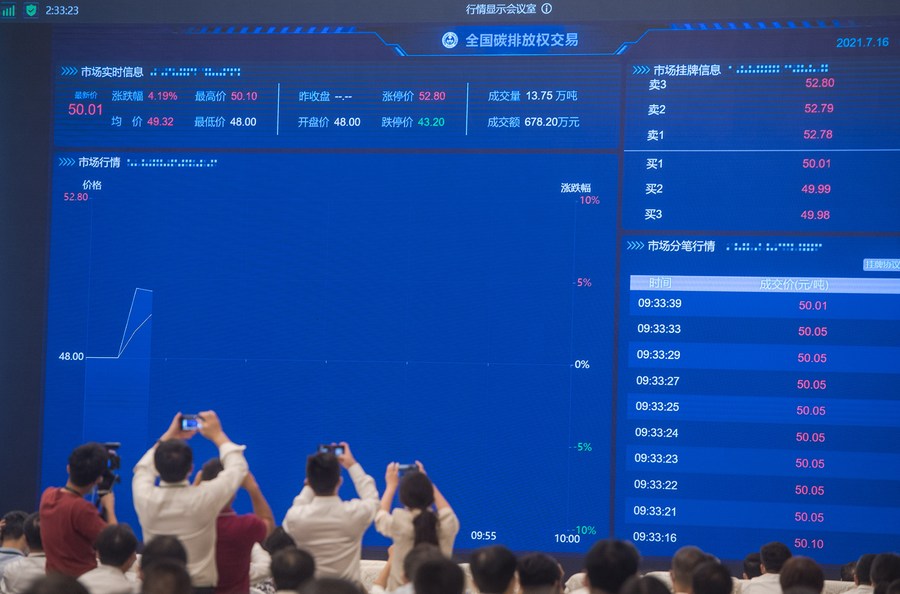 Photo taken on July 16, 2021 shows a screen displaying real-time information of national carbon emission trading in Wuhan, central China's Hubei Province. (Xinhua/Xiao Yijiu)
BEIJING, Aug. 24 (Xinhua) -- China has seen transactions for a total trading volume of 7.94 million tonnes of carbon emissions quota as of Monday's closing, with turnover totaling 393 million yuan, a steady rise since it started services last month, according to People's Daily.
The transaction price stood at 61.07 yuan per tonne at Monday's closing compared to 48 yuan per tonne at the opening on the first trading day, showing a small price fluctuation.
A total of 2,162 power generation companies were involved in the first trading group of the market, covering 4.5 billion tonnes of carbon dioxide emissions.
The trading volume is far from large as only a small number of enterprises entered the newly opened market as well as enterprises' lack of management experience on carbon trade, said an official with Shanghai Environment and Energy Exchange(SEEEx).
More efforts will be made to optimize related rules and standards, with futures trading to be launched and market further expanded, according to the SEEEx official.
(Edited by Tian Shenyoujia with Xinhua Silk Road, tianshenyoga0524@163.com)