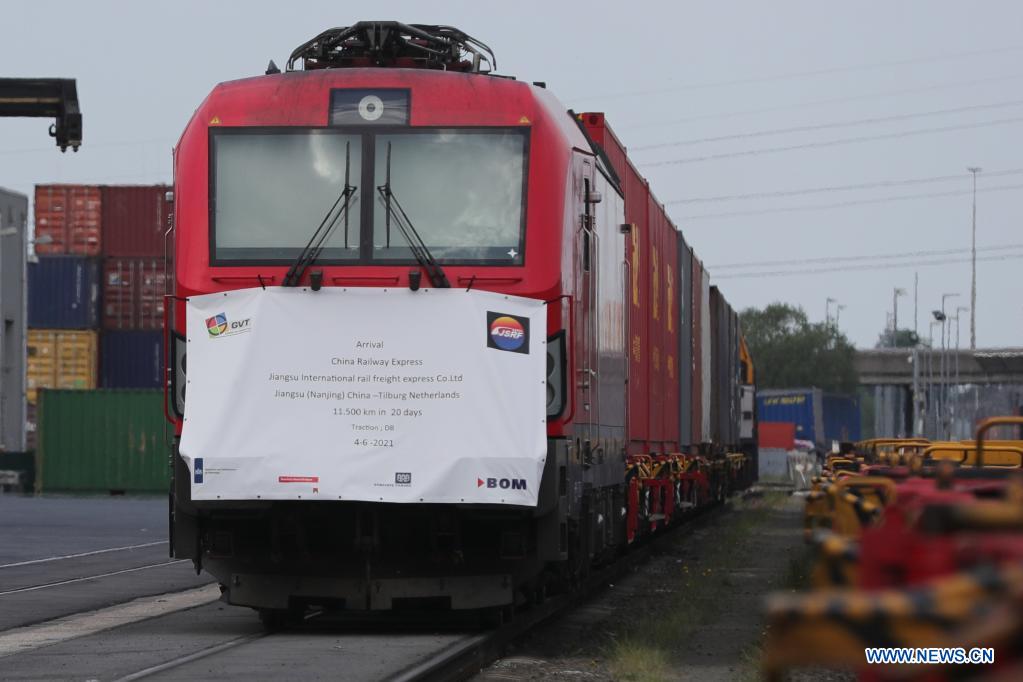 The first China-Europe freight train bound for Tilburg from Nanjing, capital city of east China's Jiangsu Province, arrives in Tilburg, the Netherlands, June 4, 2021. (Xinhua/Zheng Huansong)
BEIJING, Aug. 23 (Xinhua) -- A China-Europe freight train chartered for sending local enterprises' exports of cross-border e-commerce goods departed from Xuzhou City in east China's Jiangsu Province to Europe on Sunday.
The train is the first of this kind in Xuzhou. It loaded with 100 TEUs of cross-border e-commerce goods such as plywood weighing over 900 tonnes departed for Poland via Erenhot Port after customs transit conducted by Xuzhou Customs.
It is noted that the exports of goods was indebted to the cross-border e-commerce platform where domestic enterprises sign a trade deal with overseas counterparts to directly export goods through customs transit.
This marks an opening for China-Europe Freight train in Xuzhou to carry exports of cross-border e-commerce goods, said Song Bin, an official with Xuzhou Huaihai International Inland Port Operation Co., Ltd.
Xuzhou city saw 172 China-Europe freight train trips in the first seven months of this year, with shipping goods worth cumulative value of 230 million US dollars and trade volume increased by 44 percent year on year.
(Edited by Tian Shenyoujia with Xinhua Silk Road, tianshenyoga0524@163.com)