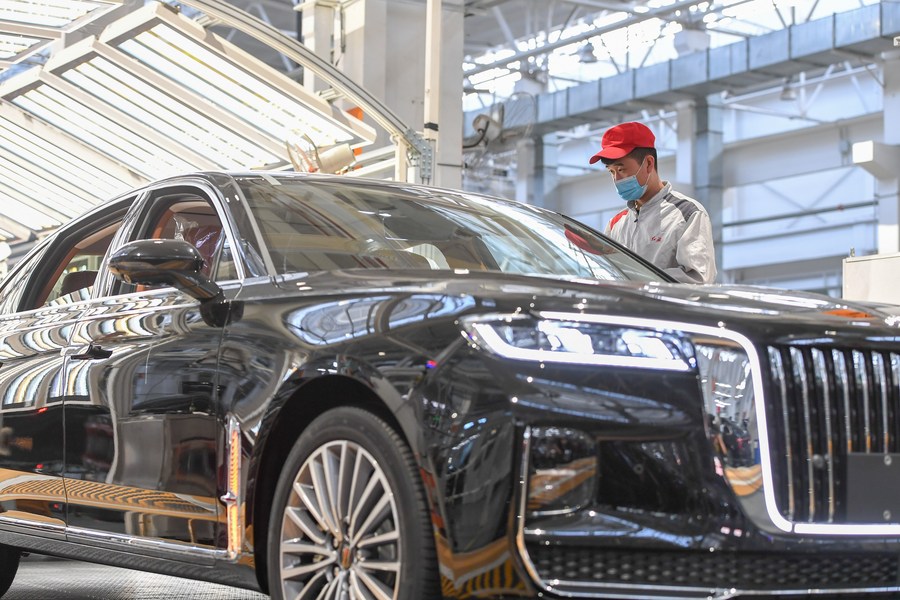 File photo taken on Sept. 23, 2020 shows that a worker checks a vehicle at the general assembly line of Hongqi, the leading sedan brand of First Automotive Works (FAW) Group Co. Ltd., in Changchun, northeast China's Jilin Province. (Xinhua/Zhang Nan)

CHANGCHUN, Aug. 21 (Xinhua) -- China's leading automaker FAW Group Co., Ltd. said it will put more than 100 smart cars of the Hongqi brand in operation, technologically co-driven by humans and vehicles, in the northeastern city of Changchun.
It is part of the efforts to promote the construction of a driverless demonstration zone in Changchun, capital of Jilin Province, said the company.
So far, FAW has completed the construction of 10.5 km of smart roads, putting four Hongqi smart cars in operation and has been operating safely for nearly 30,000 km.
In recent years, the production and sales of Hongqi cars have maintained rapid growth. Over 170,600 Hongqi cars were sold between January and July this year, an increase of 95 percent year on year.
Hongqi, meaning "red flag," is China's iconic sedan brand. Established in 1958, the brand has been used in parades for national celebrations.
Founded in 1953 in Changchun, FAW Group is regarded as the cradle of China's auto industry. Enditem