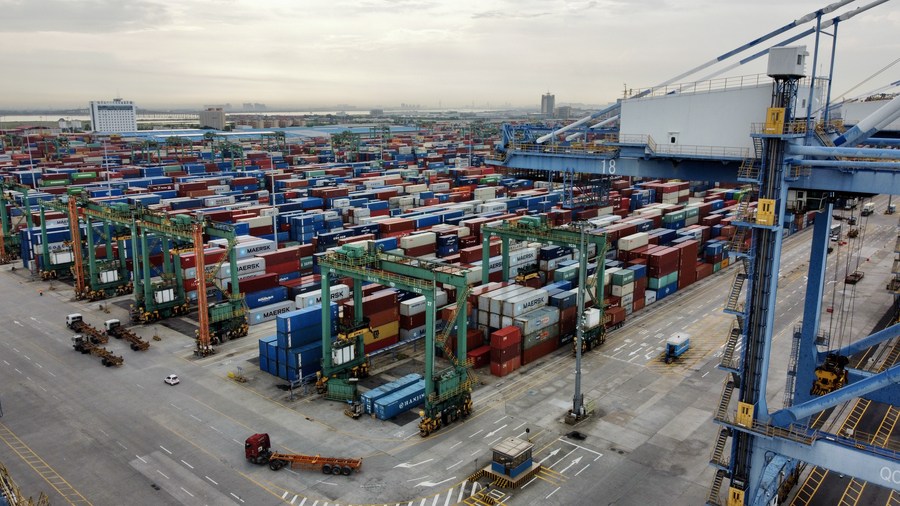 Aerial photo taken on July 17, 2021 shows the view of GuangzhouPort, in south China's Guangdong Province. (Xinhua/Geng Xinning)
BEIJING, Aug. 20 (Xinhua) – Local authorities in south China's Guangzhou City recently unveiled a three-year plan (2021-2023) for the city's port construction, aiming to strengthen Guangzhou Port's shipping resource allocation capacity, reported Chinanews.com Wednesday.
The port is expected to achieve a cargo throughput of 650 million tonnes by 2023, while its container throughput to reach 25.5 million TEUs during the period, according to the plan.
Efforts will be made to build a new development pattern of Guangzhou Port with Nanshan Port as the core and accelerate the construction of supporting infrastructures of Nansha Port during the period.
According to the plan, the upcoming Nansha Port railway is expected to strengthen the multimodal transportation capacity of Guangzhou Port and enhance its economic effects in major ports at home and abroad.
At the same time, Guangzhou Port vows to support domestic and overseas ports and related shipping enterprises to operate business in Guangzhou, and facilitate the service capacity and competitiveness for domestic ports in international cooperation.
Guangzhou Port will also give priority to the development of the international cruise industry. For example, it will apply to construct a cruise tourism experimental zone in Nansha Port and launch small and medium-sized cruise services and routes in other ports in Guangzhou.
It is noted that Guangzhou Port has achieved outstanding container and grain cargo throughput in 2020, which stood at 14.55 million TEUs and 34.55 million tonnes, respectively, ranking the first in China.
Relying on international cooperation platforms such as pilot Free Trade Zone (FTZ) and comprehensive bonded zone, Guangzhou Port pledges to strengthen the concentration of the port industry in the province. For example, Guangzhou Port will consolidate its major role as an international container transportation hub connecting Africa, Southeast Asia, and the Mediterranean by enhancing container logistics operations.
(Edited by Jiang Feifan with Xinhua Silk Road, 346129473@qq.com)