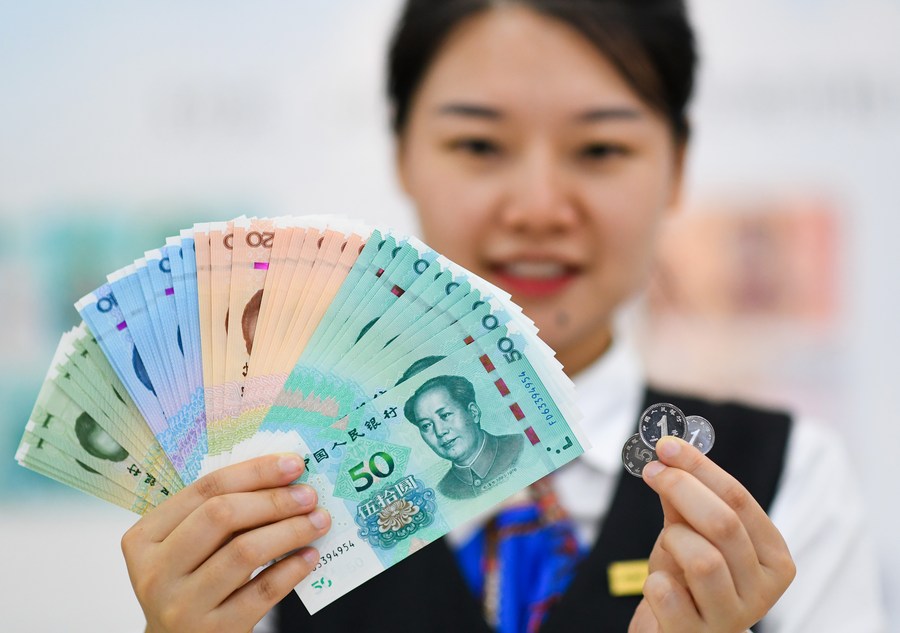 A staff member displays the banknotes and coins included in the 2019 edition of the fifth series of the renminbi at an Industrial and Commercial Bank of China (ICBC) branch in Beijing, capital of China, Aug. 30, 2019. (Xinhua/Chen Yehua)
BEIJING, Aug. 20 (Xinhua) -- China's currency renminbi (RMB) retained its position as the fifth most active currency for global payments by value in July, according to the Society for Worldwide Interbank Financial Telecommunication (SWIFT), a global provider of financial messaging services.
In July, RMB payment decreased by 23.61 percent compared to June 2021, showed a monthly report published by the SWIFT.
In global payments activities based on value, the yuan accounts for about 2.19 percent, while the greenback maintained its top spot in the ranking, with a share of 39.38 percent. The euro followed with 38.43 percent, and the pound remained in the third. The yen rounded out the top four.
In terms of international payments excluding payments within the eurozone, the RMB ranked sixth with a share of 1.38 percent during the period.
The Hong Kong Special Administrative Region is the largest market for offshore RMB transactions, taking up 75.24 percent, followed by the economies of the United Kingdom, Singapore and the United States, according to the report.
(Edited by Li Shimeng with Xinhua Silk Road, lishimeng@xinhua.org)