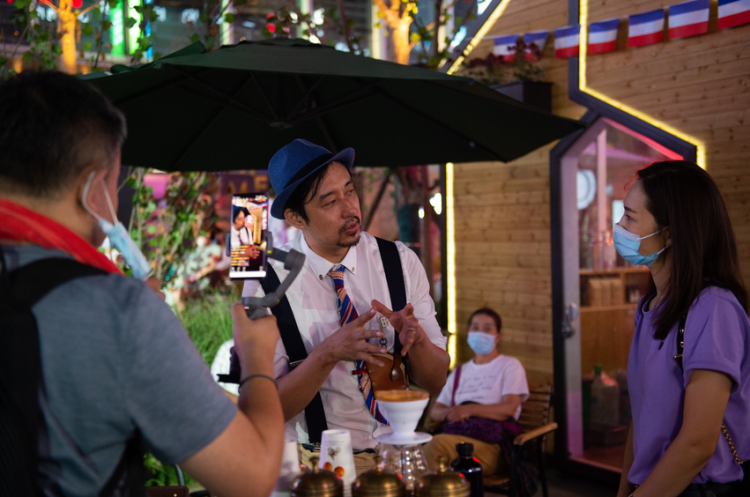 A coffee shop staff member (C) attends a livestreamed interview during a shopping carnival held in the Wangjing subdistrict as part of a consumption stimulus plan in Chaoyang District, Beijing, capital of China, Aug. 8, 2020. (Xinhua/Chen Zhonghao)
BEIJING, Aug. 19 (Xinhua) -- China's coffee consumption, which increases at an annual rate of about 30 percent in recent years, is expected to exceed 100 billion yuan this year, reported the Xinhua-run Shanghai Securities News on Thursday, quoting an industrial research.
The research report released by the Chinese big data service provider CBNData showed that more than 60 percent of domestic coffee consumers drink at least three cups of coffee per week. Per capita coffee consumption in the first tier cities including Beijing, Shanghai, Guangzhou and Shenzhen almost equals to that in mature coffee drinking markets such as Japan and the United States, and the coffee consumption in the second and third tier cities has been increasing rapidly.

In the first half, China imported 61.77 million kilograms of coffee beans, surging 104.3 percent year on year, with the import value reaching 238 million U.S. dollars, jumping 76 percent year on year, according to data from the General Administration of Customs.

As Chinese consumers prefer quality coffee over instant coffee in recent years, the sales of coffee machines have shot up.

Coffee machine is one of the few categories of kitchen appliances that witness sales growth this year. The sales volume of coffee makers soared 92 percent year on year within three days after the Tmall 618 mid-year online shopping festival began, showed data from Tmall, Alibaba's online marketplace.
The expanding coffee consumption has also driven the growth in the income of coffee processing enterprises, which however have not seen profit increase.
Jiahe Foods Industry Co., Ltd. (Jiahe Foods, 605300.SH), a listed coffee processor, achieved a 55.74 percent year-on-year increase in its total operating revenue in the first half, but saw its net profits attributable to shareholders drop 8.9 percent year on year, according to the company's mid-year financial report.
The profit decline was attributed to major raw material price hikes, adding to lagging rise in charging price, said an official with Jiahe Foods.

Unlike coffee processors, coffeehouses and convenience stores are not that sensitive to the price change in green coffee beans.

Compared with the price of green coffee beans, the price of milk, rent, labor cost and even the price of packaging have a greater impact on the total costs of a cup of coffee available to the end consumers, said an industry insider. (Edited by Su Dan with Xinhua Silk Road, sudan@xinhua.org)