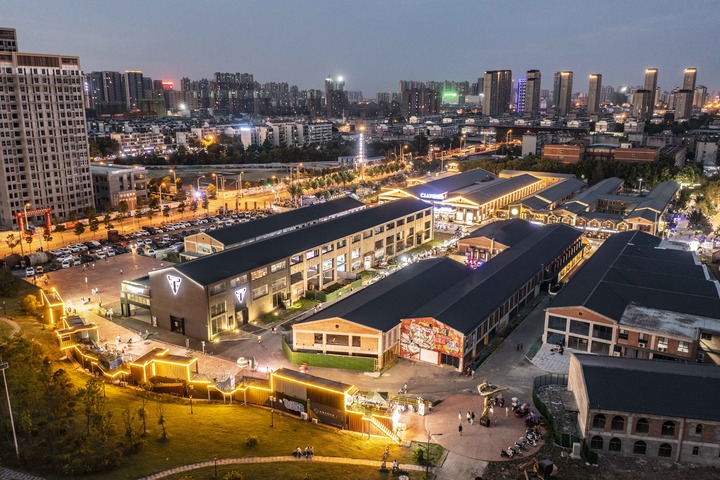 Aerial photo taken on Aug. 7, 2021 shows the night view of the Yangtze River 180 art district in HefeiCity of east China's AnhuiProvince. (Photo by Xie Chen/Xinhua)
BEIJING, Aug. 17 (Xinhua) – The Pilot Free Trade Zone (FTZ) in east China's Anhui Province has achieved fruitful results in industrial development through deepening reform and opening-up since it was inaugurated in September last year, reported Anhui Daily Monday.
By the end of June this year, Anhui FTZ has witnessed the settlement of 8,059 newly established enterprises and the signing of 658 major projects with a total investment of 417.64 billion yuan, marking accelerated paces of the dividends of reform and opening-up.
In addition to exploring institutional innovations in integrated circuits, quantum information technology, international freight service, and new material production, the FTZ is also strengthening its attraction to global technology, talent, and financial resources.
Anhui Province also continued to expand reform and opening-up in advanced manufacturing, science and technology, telecommunication, and other sectors.
Thanks to its geographic advantages, Anhui Province is vigorously enhancing trade development such as cross-border e-commerce and market procurement. In the first half of the year, the province's foreign trade volume reached 73.02 billion yuan, up 1.4 times from the same period last year.
Efforts have also been made in strengthening scientific innovation, attracting talents, and promoting financial opening-up. For example, Anhui Province has relaxed the restriction on the foreign shareholding ratio of financial institutions to attract more high-quality companies to settle in Anhui FTZ.
(Edited by Jiang Feifan with Xinhua Silk Road, 346129473@qq.com)