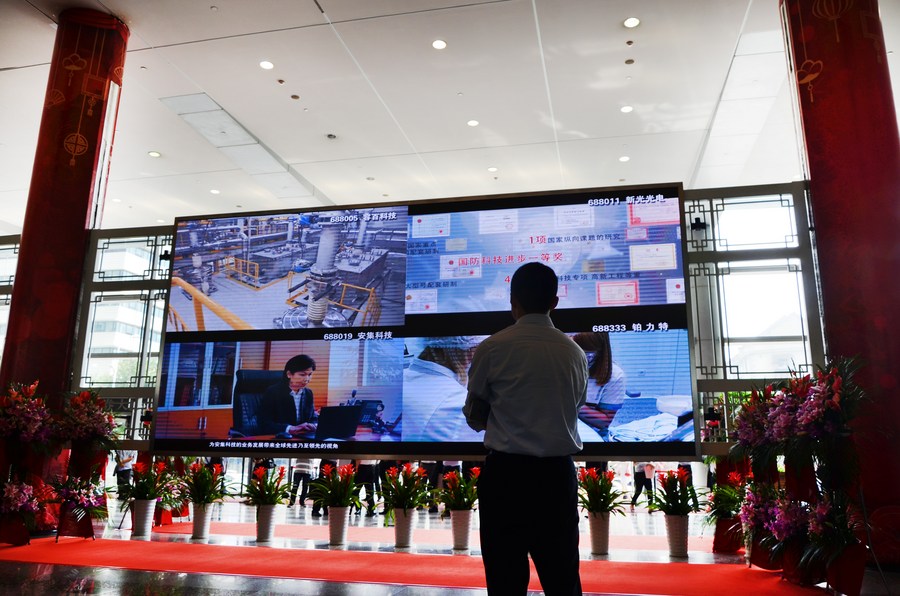 A man views a video introducing the listed companies at the Shanghai Stock Exchange in Shanghai, east China, July 22, 2019. (Xinhua/Wang Xiang)
BEIJING, Aug. 16 (Xinhua) -- The Shanghai Stock Exchange (SSE) has recently revealed the assessment results on information disclosure performance of companies listed on the main board of the bourse during 2020-2021, reported Shanghai Securities News on Monday.
A total of 1574 companies which had been listed on the main board of SSE by December 31, 2020 were reviewed on their information disclosure performance during July 1, 2020 to June 30, 2021.
On the basis of assessment, over 80 percent of listed firms have posted favorable performance, among which, 307 firms were rated A and 958 ones were rated B.
A total of 256 companies were given a C-rating as they have met the basic standard but with some minus flaws in effectiveness and operation of information disclosure, while about 3.37 percent, or 53 firms with poor performance or even violation of rules were given alarm with a D-rating.
According to SSE, this move is to assess the performance of information disclosure, rather than the quality or investment returns oflisted firms, and to help the firms to diffuse risks in advance.
However, to some extent, enterprises with good information disclosure performance tend to have relatively high quality.
Besides, the assessment results have indicated risks, as nearly 90 percent firms with risk warnings were given C and D in the assessment.
(Edited by Li Shimeng with Xinhua Silk Road, lishimeng@xinhua.org)