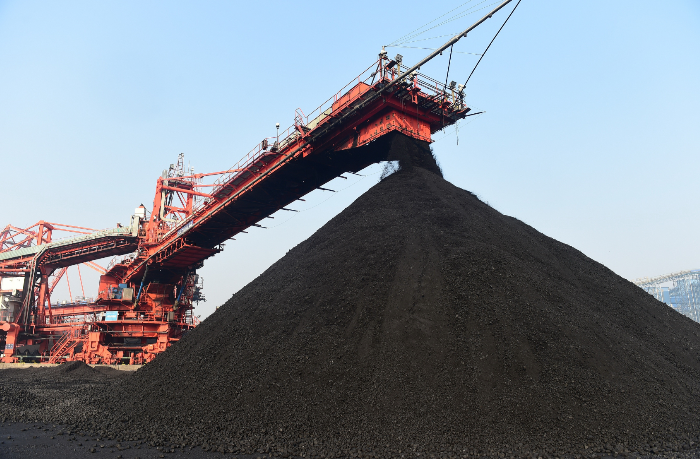 Photo taken on Dec. 22, 2020 shows a thermal coalyard of Huanghua Port in Cangzhou City, north China's Hebei Province. (Xinhua/Wang Min)
BEIJING, Aug. 12 (Xinhua) -- The supply-demand in China's coal market is expected to be balanced in the near future as coal output has risen sharply and a spike in demand during the summer electricity consumption season is drawing to a close, according to the National Development and Reform Commission (NDRC) on Wednesday.
A total of 15 suspended coal mines in north China's five provincial-level regions have been granted to resume production for one year, involving a combined production capacity of 43.5 million tonnes a year. After resumption, they can increase output by 150,000 tonnes per day, according to a recent circular jointly issued by the NDRC and National Energy Administration.
In addition to the output surge, the coal reserves have also been rolled out in batches on the domestic market to ensure a stable supply of coal, according to NDRC.
A total of 7.4 million tonnes of coal were supplied to the power plants in a coordinated manner on Tuesday, hitting a record high of coal supply in summer and nearly 600,000 tonnes more than the previous normal level, while the power plants consumed 7.2 million tonnes, nearly 300,000 tonnes lower than the peak, according to the data released by NDRC on Wednesday.
The supply-demand in the coal market is expected to be balanced in August and after because of increasing production and falling demand in mid-late August, said Zeng Xiang, a coal industry analyst with First Futures.
Price fluctuation brought by the uncertain supply will slow down and the price of thermal coal may fall after the short-term peak, said Ming Ming, a researcher with CITIC Secutities. (Edited by Tian Shenyoujia with Xinhua Silk Road)