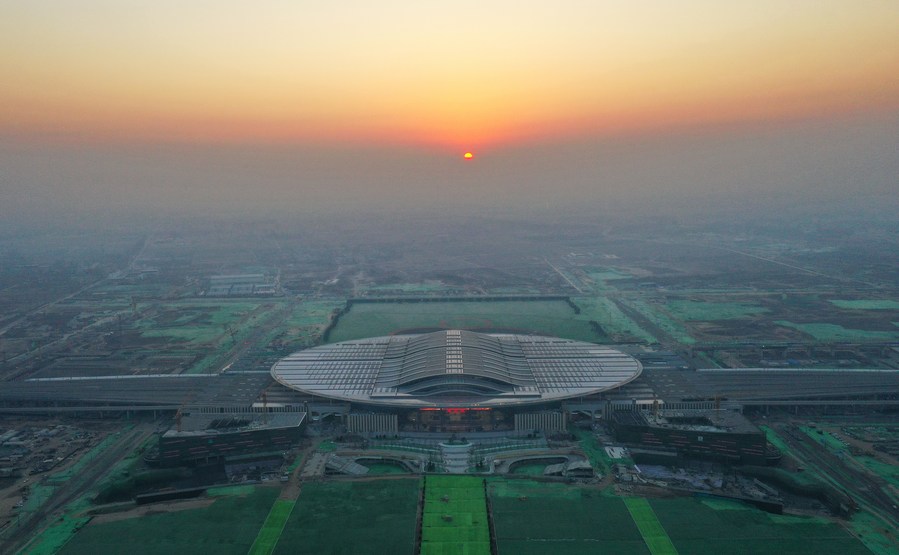 Aerial photo taken on Dec. 27, 2020 shows the Xiongan Railway Station at sunrise in Xiongan New Area, north China's Hebei Province. (Xinhua/Mu Yu)
BEIJING, Aug. 11 (Xinhua) -- State Grid Integrated Energy Co., Ltd (Xiongan) has inked an International Renewable Energy Certificate (I-REC) project purchase agreement with YNIWM, selling the Australian counterpart the carbon assets gained from a roof-top distributed PV power project in Xiongan New Area, north China's Hebei Province.
This is the Xiongan's first international carbon trade deal, according to Hebei Daily.
Carbon assets for 675,000 kwh on-grid electricity generated by the roof-top PV project at Xiongan high-speed railway station will be sold to YNIWM, which can offset about 465 tonnes of carbon emissions, according to the agreement.
It is noted that the roof-top PV project has a total installed capacity of 6MW and was officially connected to the grid for power generation last December, being able to supply 5.8 million kwh of clean power for the railway station annually.
(Edited by Tian Shenyoujia, Niu Huizhe with Xinhua Silk Road, niuhuizhe@xinhua.org)