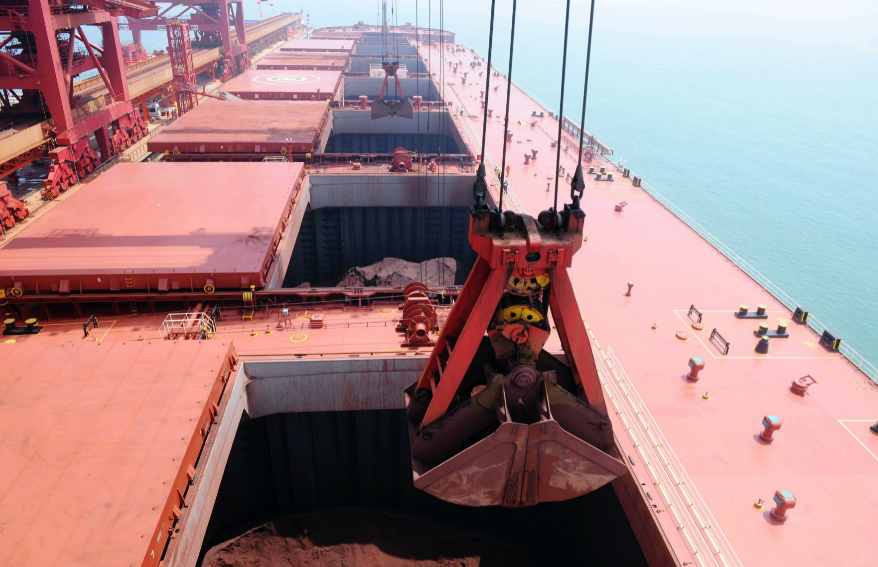 Cranes unload iron ore from "Yuan Zhuo Hai", one of the world largest ore ships, at Dongjiakou dock in Qingdao, east China's Shandong Province, July 4, 2015. (Xinhua/Yu Fangping)
BEIJING, Aug. 11 (Xinhua) -- Iron ore prices in China are expected to fall further with the acceleration of the steel production restrictions nationwide, the Shanghai Securities News reported on Wednesday.
The benchmark iron ore futures for January delivery trade on the Dalian Commodity Exchange closed at 853 yuan/tonne, down 1.33 percent, on Tuesday. It is worth noting that the commodity futures hit 823 yuan/tonne in intraday trading, a record low in the past 9 months.
Industry insiders point out that due to steel production restrictions, the operating rate of national steel mills and the daily output of crude steel have continued to decline since July, leading to the sluggish demand for iron ore, a key ingredient for steelmaking.
They added that the specific measures to reduce crude steel production in regions will be put in place and many steel mills will reduce raw material inventories. Given the optimistic delivery of imported iron ore, it is expected that iron ore prices still have room to go down.
Since mid-June, many regions in the country have begun planning the reduction of steel output in the second half of the year.
According to the Shanghai Securities News, measures aimed at restricting and reducing steel output have recently been implemented in many places.
For example, north China's Shanxi Province has asked cities such as Taiyuan, Jincheng and Changzhi to restrict the steel production for environmental protection.
Tangshan, a key steelmaking city in north China's Hebei Province, has continued to limit the steel production and some local steel mills will cut the carbon dioxide emissions by 30 percent.
In addition, large steel companies in the country have also actively implemented production restrictions.
According to Hu Wangming, general manager of China Baowu Steel Group, the steel group will strive to the limit the production and try to balance the production and sales.
Some steel mills in northeast China's Liaoning Province will expand the plan of overhauling facilities to complete the production reduction target.
Li Xinchuang, vice chairman of the China Iron and Steel Association (CISA), said that the reduction of crude steel output is conducive to reducing the demand for iron ores, which has a positive effect on stabilizing iron ore prices in the short term.
It is noted that since July 19, the benchmark iron ore futures have showed a downtrend. (Edited by Hu Pingchao, Wang Siyi with Xinhua Silk Road, hupingchao@xinhua.org)