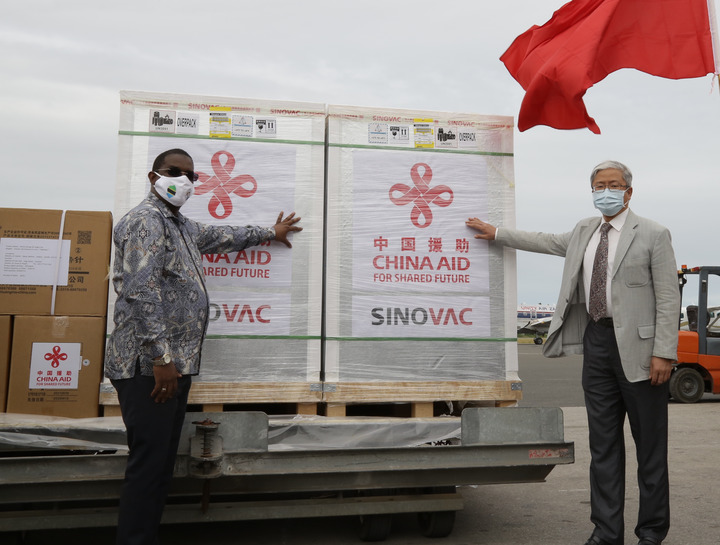 Zanzibar's Minister of Trade and Industrial Development Omar Said Shaaban (L) and Chinese Consul General in Zanzibar Zhang Zhisheng attend the handover ceremony of the COVID-19 vaccines at the Abeid Amani Karume International Airport in Zanzibar, Tanzania, on July 31, 2021. Tanzania's Zanzibar received a batch of Sinovac COVID-19 vaccines and syringes donated by China on July 31. (Photo by Herman Emmanuel/Xinhua)
BEIJING, Aug. 4 (Xinhua) -- China has donated and exported more than 700 million doses of COVID-19 vaccines and concentrates to overseas countries and regions by the end of July, which surpassed the comparable aggregate of all other countries, showed latest data from the Joint Prevention and Control Mechanism of the State Council, the Chinese cabinet.
Since the outbreak of the COVID-19 epidemic, China has always stood for deepening international vaccine cooperation to ensure the accessibility and affordability of vaccines in developing countries and make vaccines global public goods.
In spite of China's enormous population and tight vaccine supply, China has responded positively to all countries that have requested vaccine cooperation, thus adding confidence and strength to the global fight against the pandemic.
-- Doing its best to provide vaccines to foreign countries
Previously in mid July, the Global Alliance for Vaccines and Immunization (GAVI) announced that it has signed pre-purchase agreements with China National Pharmaceutical Group Co., Ltd. (Sinopharm) and Sinovac Biotech Ltd. (Sinovac), indicating that the COVID-19 vaccines developed by the two companies are included in the COVID-19 Vaccines Global Access (COVAX) Facility, and will make a greater contribution to the epidemic prevention and control in developing countries.
With the clinical trial data and other indicators strictly evaluated by the WHO Strategic Advisory Group of Experts on Immunization, the two's vaccines have been included in the WHO emergency use list. Alongside the expansion of Chinese vaccines in many countries around the world, more and more data has been obtained and confirmed their safety and effectiveness.
Chinese vaccines are the first batch of vaccines to become available to many developing countries. Teodoro Nguema Obiang Mangue, President of Equatorial Guinea, once said that Chinese vaccines brought hope to the local fight against the epidemic. At the opening ceremony of the 26th International Conference on the Future of Asia, Cambodian Prime Minister Samdech Techo Hun Sen noted that, without China's assistance and supply of vaccines, how could Cambodia's nearly two million people have been vaccinated?
Some heads of state and senior government officials have taken the lead in administering Chinese vaccines, showing their confidence in them.
In January 2021, Hungary signed a contract to purchase five million doses of COVID-19 vaccines from China, making it the first EU country to use of the COVID-19 vaccine produced by Sinopharm, thereby accelerating its vaccination.
Peter Szijjarto, Hungarian Minister of Foreign Affairs and Trade, said that it's completely correct for the Hungarian government to decide to cooperate with Sinopharm. Vaccines are not tools of geopolitics, but life-saving means.
-- Cooperation on production capacity
In addition to aid and exports of vaccines, China has also carried out joint R&D and production of COVID-19 vaccines with the United Arab Emirates (UAE), Egypt, Indonesia, Turkey, Brazil and other developing countries.
By supporting related enterprises to cooperate with foreign parties in conducting the phase III clinical trial, China helped related foreign countries expand their local vaccine production capacity, which has currently exceeded 200 million doses, to aid the global response to the COVID-19 pandemic.
In February, Brazil's state-run Butantan Institute launched a mass vaccination test of Sinovac vaccine in the small town of Serrana. After administering the two-dose Sinovac vaccine, the number of people diagnosed with symptoms decreased by 80 percent, those admitted to hospitals decreased by 86 percent, and the death toll decreased by 95 percent compared with that before the vaccination. In addition, the number of confirmed cases among non-vaccinated groups, such as those under the age of 18, also dropped.
According to O Globo, Brazil's major newspaper, Butantan Institute began to construct a new plant in November 2020 to produce the COVID-19 vaccine through cooperation with Sinovac Research & Development Co., Ltd., which is expected to be completed in October 2021. Sinovac will send a team to Brazil to provide technical support for the new vaccine plant.
On March 28, 2021, the "cloud launch" ceremony of China's COVID-19 vaccine concentrates filling production line project undertaken in cooperation by China and the UAE was held simultaneously in Beijing and Hebei Province of China and Abu Dhabi of the UAE. Hence, the UAE has its first coronavirus vaccine, which has been dubbed the "vaccine of life".
In July, China National Biotec Group, a subsidiary of Sinopharm, signed a memorandum of understanding with Morocco regarding vaccine filling and production, to help control the epidemic locally and serve the African continent.
-- Equal treatment to foreigners
To construct an effective immunization barrier and ensure the life, health, work, study and livelihood of foreign nationals in China, China has included foreign nationals of eligible groups within the scope of vaccination. At present, more than 350,000 foreigners have administered more than 600,000 doses of COVID-19 vaccines in China.
On April 9, Peking University launched a COVID-19 vaccination campaign, and nearly 1,250 Chinese and foreign teachers and students were vaccinated on the same day through the cooperation of multiple departments. Joseph Olivier Mendo'o from Cameroon believes in the maturity and reliability of the Chinese vaccines, and hopes that more people will join the pandemic prevention and control efforts.
Efforts made by the Chinese government and medical workers to promote vaccination have warmed the foreigners. Frank, a German living in Shanghai, ordered drinks for a community health center to express thanks for his vaccination in China. Dai Bo, a Pakistani living in Guangzhou, said his family had received the Chinese vaccines in Pakistan, and now he is being vaccinated in China. He is deeply grateful to China.
Su Tan, a Pakistani student at Hubei University who once served as a volunteer during the epidemic prevention and control campaign in Wuhan, volunteered in March to be vaccinated against COVID-19 epidemic.
Through videos and articles, he insists on introducing China's fight against COVID-19 epidemic and China's economic development to refute untrue remarks. In his eyes, China's efforts have made a great contribution to the world's fight against the pandemic. (Edited by Duan Jing with Xinhua Silk Road, duanjing@xinhua.org)